ESA Heliophysics
Heliophysics, the science of understanding the Sun and its interaction with bodies in the solar system (including the Earth) and the solar system medium itself, has a large and active international community, with significant expertise and heritage in the European Space Agency and Europe. Several ESA directorates have activities directly connected with this topic, including ongoing and/ or planned missions and instrumentation, comprising a ESA Heliophysics observatory or more musically, a Heliophysics Orchestra: The Directorate of Science with mission such as Ulysses, SOHO, Cluster, Solar Orbiter, SMILE etc, as well as hosting the Heliophysics archive; The Directorate of Earth Observation with Swarm and other Earth Explorer missions (including EE 10 candidate Daedalus); The Directorate of Operations with the L5 mission, Distributed Space Weather Sensor System (D3S) and the Space Weather Service Network; The Directorate of Human and Robotic Exploration with many ISS and LOP-Gateway payloads and the Directorate of Technology, Engineering Quality with expertise in developing instrumentation and models for measuring and simulating environments throughout the heliosphere.
ESA Heliophysics aims to optimize interactions internally and to act as a focus for discussion, inside ESA, of the scientific interests of the Heliophysics community, including the European ground-based community and data archiving activities.
An ESA Heliophysics Working group has been appointed by ESA Directors to provide feedback on these synergies. More information, along with meeting minutes and presentations can be found in these web pages.
Overall, this area provides a conduit for the Heliointerested to engage and collaborate with like minded people at ESA, including presenting and participating in the seminar series.
The activity is coordinated by the ESA Heliophysics Working Group and friends.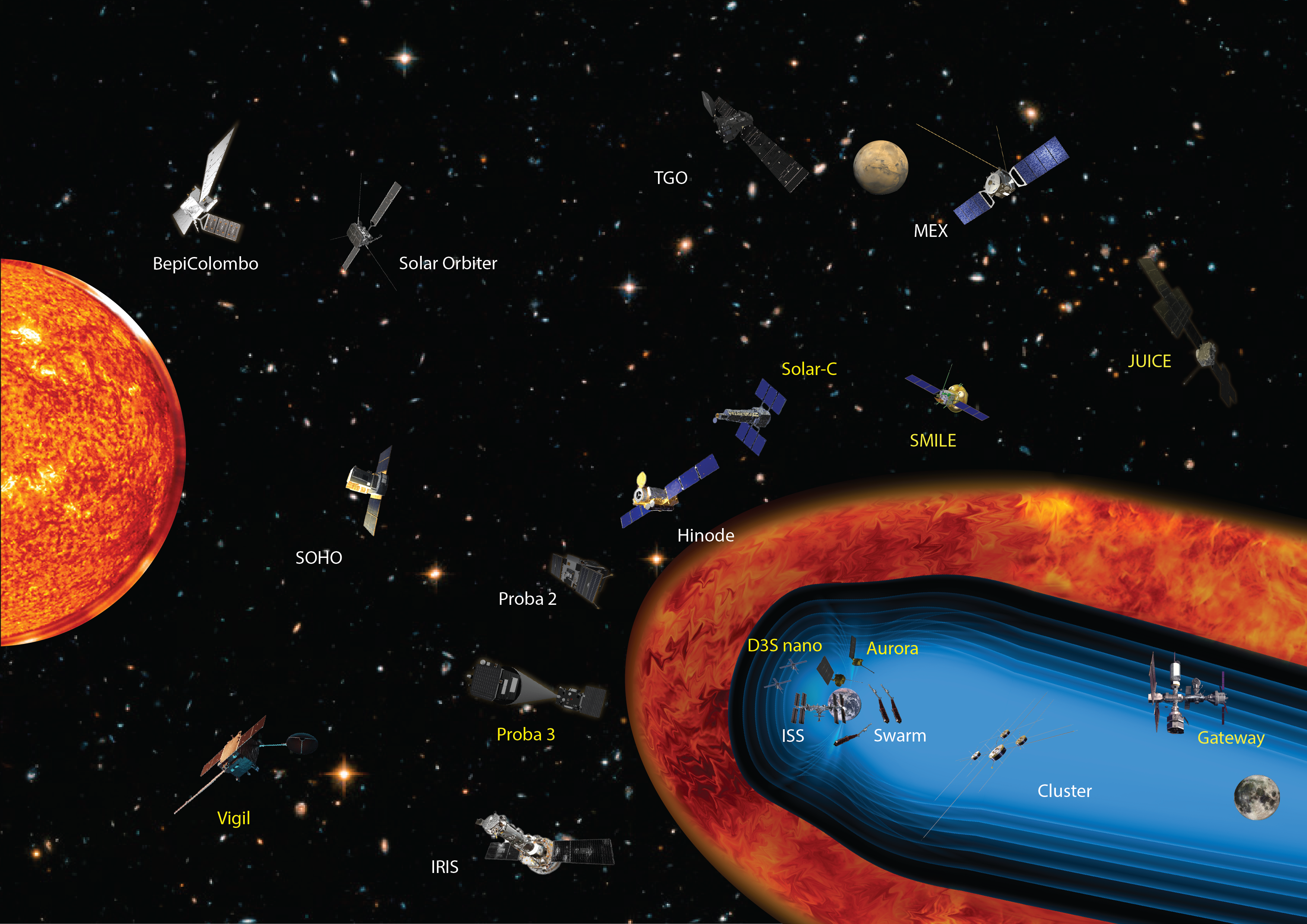 An example of the European Heliophysics orchestra - the set of ESA related missions in operation via the various entities which have capability to study Heliophysics phenomena.