ILWS Organization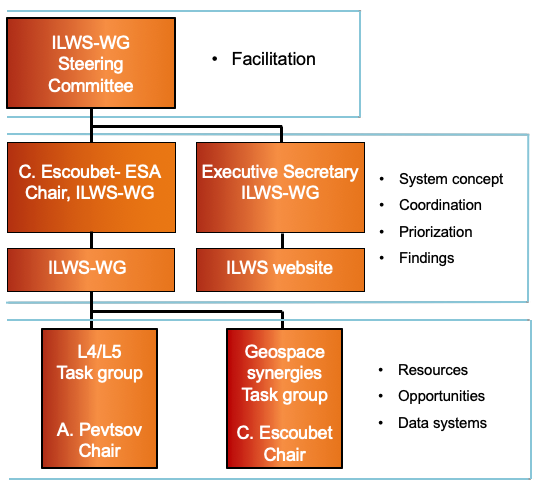 ILWS STEERING COMMITTEE:
Serves as the principal planning and oversight body for coodinating ILWS efforts and composed of the following members
ILWS WORKING GROUP
The ILWS Working Group is comprised of members from contributing agencies and the chairs of each of the Task Groups. ILWS-WG members meet at every COSPAR meeting, chaired by the Chair of the Steering Committee.
ILWS TASK GROUPS
Topical ILWS Task Groups are established as necessary to support specific ILWS-WG projects/studies and serve for a maximum of 4 years. Current groups include:
1. Promoting international collaboration in multi-vantage observations of the Sun,
with a special focus on unique scientific advantages of L4+L5 combined observations.
A. Pevtsov, U.S. National Solar Observatory, USA and University of Oulu, Finland
Y. Liu, State Key Laboratory of Space Weather, National Space Science Center, China
D. Nandi, Center of Excellence in Space Sciences India, IISER Kolkata, India
N. Gopalswamy, NASA, GSFC, USA
K. Kusano, Nagoya Univ., Japan
2. Working group on Geospace synergies between Arase-ERG, Cluster, Geotail, MMS, THEMIS, Van Allen Probes and related ground- based (GB) instrumentation
Previous tasks groups included
ILWS Task group on Coordinated science with the Solar Orbiter, Solar Probe Plus, Interhelioprobe and SPORT missions: M. Maksimovic, S. Bale, V. Kuznetsov, I. Zimovets, Y. Liu, X. Ming, A. Zhukov, A. Vourlidas, M. Velli

ILWS task group on advancing space weather science to protect society's technologicl infrastructure: a COSPAR/ILWS roadmap led by K. Schrijver

Ground-Based Task Group: E. Donovan (chair)

End Users Group: Eamonn Daly (Chair), J. Barth (Co-chair), M. Akioka, D. Boteler, F. Lefeuvre, A. Glover. R. Viereck

Solar Task Group composed of: T. Hoeksema (Chair) , A. Ambastha, T. Appourchaux, J. Burkepile, P. Cally, P. Charbonneau, R. Harrison, M. Kojima, V. Kuznetsov, M. Machado, W. Schmutz, C. Tu, S. White

Heliosphere Task Group

Ionosphere/Thermosphere: T. Neubert

Magnetosphere: H. Koskinen

The Community Coordinated Modeling Center (CCMC): M. Guhathakurta

ILWS and Data Systems: D. Sibeck
---
ILWS contributing agencies and delegates
Canadian Space Agency (CSA) - MANUEL, John
Centre National d'Etudes Spatiales (CNES) - AMSIF, Kader
Chinese National Space Administration (CNSA) - WANG, Chi
Community Coordinated Modeling Center (CCMC) - HESSE, Michael (Ex Officio)
DLR German Aerospace Center - GRITZNER, Christian
European Space Agency (ESA) - ESCOUBET, Philippe
Finnish Meteorological Institute - PULKKINEN, Tuija
GSRT, Greece - DAGLIS, Ioannis
IAC Astrophysical Institute, Canaries - Vacant
Indian Space Research Organization (ISRO), Bangalore, India - Vacant
INAF - ASI Turin Astronomical Observatory - ANTONUCCI, Ester
INPE National Space Research Institute - GONZALEZ, Walter
Institute of Experimental Physics, Slovak Academy of Sciences (SAS), Kosice (in collaboration with Technical U. and P.J. Safarik U. in Kosice) - KUDELA, Karel
IPS Radio and Space Services, Australia - NEUDEGG, David
IWF/OEAW Austrian Academy of Sciences - NAKAMURA, Rumi
Japan Aerospace Exploration Agency (JAXA) - FUJIMOTO, Masaki
Korean Astronomy and Space Science Institute (KASI) - CHO, Kyungsuk
KFKI Research Institute for Particle and Nuclear Physics - KECSKEMÉTY, Károly
Max Planck (MPS), Germany - BUECHNER, Jorg
Moroccan Ministry of Higher Education, Staff Training and Scientific Research, NAJID, Nour-Eddine
NASA Headquarters - GUHATHAKURTA, Lika
National Space Agency of Malaysia (ANGKASA) - ASILLAM, Mohd Fairos
National Space Institute, Denmark - NEUBERT, Torsten
National Space Organization (NSPO), Taiwan - CHENG, Frank
NOAA Space Weather Prediction Center (SWPC) - ONSAGER, Terry
Norwegian Space Center - BREKKE, Paal
NSAU Ukrainian Space Agency - PARNOWSKI, Aleksei
PMOD/WRC Davos Physical Meteorological Observatory - SCHMUTZ, Werner
Romania Space Agency (ROSA) - HASEGAN, Dumitru
Russian Federal Space Agency (RFSA) - PETRUKOVICH, Anatoli
Science and Technology Facilities Council - CASTELLI, Chris
Space Research Institute (IKI) - PETRUKOVICH, Anatoli
Swedish National Space Board (SNSB) - KÖHLER, Johan