The James Webb Space Telescope
Welcome to ESA's website for JWST's scientific community
Calls
04 June 2019 - The ESA JWST master class call is now closed. The results will be announced toward the end of July.
News and Highlights
28 August 2019 - The James Webb Space Telescope has been assembled for the first fime. Reaching a major milestone, engineers have successfully connected the two halves of the NASA/ESA/CSA James Webb Space Telescope for the first time at Northrop Grumman's facilities in Redondo Beach, California. The full text of the news releases of NASA and ESA can be found here and here.
26 April 2019 - JWST Cycle 1 Proposal Schedule. STScI published the finalized JWST cycle-1 proposal schedule. The full text of the announcement can be found here.
Mission Status:
Launch in March 2021
EVENTS ( IN EUROPE ):
24-28 June 2019 - EWASS 2019 in Lyon. The JWST mission will be present on the ESA booth.
More complete list of events maintained by STScI: here.
---
Image of the month: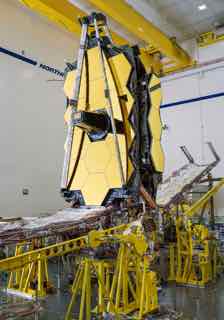 28 August 2019 - The two halves of the James Webb Space Telescope have been connected for the first time!
(Credit: NASA/Chris Gunn)
---