The James Webb Space Telescope
Welcome to ESA's website for JWST's scientific community
News and Highlights

Webb mission update: (1 June 2023) GO Cycle 2 selections have been made and footprints of proposed observations are available in the
ESAC JWST archive which is part of ESA's European Space Data Centre set of archives at https://jwst.esac.esa.int/archive/.
Webb Launch (Christmas Day, 2021) On Saturday 25 Decembar 2021, the James Webb Space Telescope was launched on an Ariane 5 rocket from Europe's spaceport in French Guyana.
Launch press releases The full press releases associated with Webb launch can be found here: NASA, ESA and Arianespace.
ESA press releases A full set of ESA press releases since launch and Webb news can be found at https://www.esawebb.org.
NASA Webb blogs For up-to-date information about the status of the Webb mission, please check the Webb blog of the NASA Webb web site.
LINKS

Link to ESA's JWST archive is available at https://jwst.esac.esa.int/archive/ -- it is possible to access and download ALL JWST products (public and private/EA) associated with all observations taken by JWST via this portal.
For general information about the Webb mission and the European contribution to the mission, check the ESA Webb page here.
For the ESA James Webb Space Telescope launch kit, check the ESA page here.
Mission Status:
Launched on 25 December 2021
As of 1 June 2023: JWST GO Cycle 2 selection complete and footprints of accepted proposed observations available in the archive at < ESA JWST Archive
HIGHLIGHTS IN Images: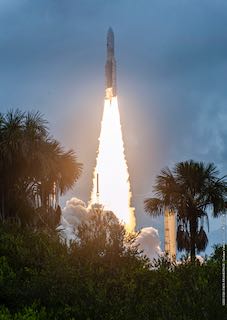 Webb was launched on an Ariane 5 Launcher on December 25, 2021
---