The James Webb Space Telescope
Welcome to ESA's website for JWST's scientific community
ESA JWST Master Class - LIST OF THE LOCAL WORKSHOPS
01 Oct 2019
Following the selection of 20 European scientists for the ESA James Webb Space Telescope (JWST) Master Class, ESA is announcing the list and dates of the training workshops for the preparation of JWST cycle-1 proposals. The list can be found here https://www.cosmos.esa.int/web/jwst/results. A total of 15 workshops will be organised in different European locations to cover a wide geographical area, between mid-February and mid-April, offering ample opportunities to all community members to get training during the proposal preparation period.
News and Highlights
28 August 2019 - The James Webb Space Telescope has been assembled for the first fime. Reaching a major milestone, engineers have successfully connected the two halves of the NASA/ESA/CSA James Webb Space Telescope for the first time at Northrop Grumman's facilities in Redondo Beach, California. The full text of the news releases of NASA and ESA can be found here and here.
26 April 2019 - JWST Cycle 1 Proposal Schedule. STScI published the finalized JWST cycle-1 proposal schedule. The full text of the announcement can be found here.
Mission Status:
Launch in March 2021
Image of the month: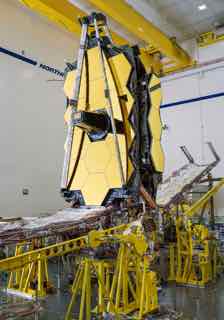 28 August 2019 - The two halves of the James Webb Space Telescope have been connected for the first time!
(Credit: NASA/Chris Gunn)
---