The James Webb Space Telescope
Welcome to ESA's website for JWST's scientific community
News and Highlights

JWST mission update: on Wednesday 08 September 2021, NASA announced that it plans to launch the James Webb Space Telescope on 18 December 2021. This date has been jointly defined by NASA, ESA and Arianespace. Webb will be launched by an Ariane 5 rocket from Europe's spaceport in French Guyana.
The full press releases can be found here: NASA, ESA and Arianespace.
For up-to-date information about the status of the JWST mission, please check the news section of the NASA JWST web site.
LINKS

For information about the Webb mission and the European contribution to the mission, check the ESA Webb page here.
For the ESA James Webb Space Telescope launch kit, check the ESA page here.
Mission Status:
Launched on 25 December 2021
HIGHLIGHTS IN Images:
​​​​​​​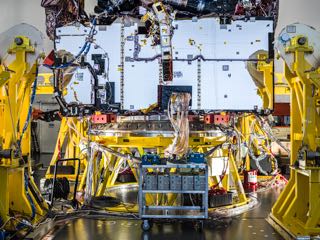 ​​​​​​​
1 Mar 2021: James Webb Space Telescope completes final functional tests before preparing for launch
(Credit: NASA/Chris Gunn)
---