The latest updates can be found here:
---
Last information for participants
Teams / Webex
The digital space for the workshop is Microsoft Teams. Please test your excess before the start of the conference. We've learned that there can be compatibility issues if your institute that hosts your email doesnt have the same Teams/Outlook restrictions as ESA. If your access still doesn't work, please send a different email address to eleni.bohacek@esa.int to register as this will likely solve the issue.
The streaming of the talks was originally planned to be over Teams, but given the compatibility issues, we do not want to risk this being unavailable to some participants so we are going to broadcast and record via Webex. The link to the webex will be communicated to via email and posted in the Teams area.
FOR IN PERSON ATTENDEES
Please arrive at ESA – ESTEC (Keplerlaan 1, 2201 AZ Noordwijk, Netherlands) at 08.00 on the 1st of November. At the Security/Gatehouse you will be required to present identification (passport) to receive your visitor badge. You must have your visitor badge on display at all times. Please proceed to the Main Entrance and Reception. There will be a series of poster to direct you to the location of the conference room (NEWTON) from there.
FOR ORAL PRESENTERS
Please upload your talk slides by the 30th October to Teams in the channel of your session. If this is not working for you for any reason please upload to the channel "Oral presentations upload". If that is still not working for you please send me your slides via email eleni.bohacek@esa.int.
FOR POSTER PRESENTERS:
Please bring your printed posters up to A0 size format and upload a digital copy of your poster to the "Posters" channel on Microsoft Teams. You may give a 2 minute bullet/lightning talk to showcase your poster at the start of the session.
Code of conduct
We would like to remind you about our Workshop Code of Conduct that you agreed to at registration. The Code of Conduct is an essential part of our commitment to providing a safe, inclusive, and respectful environment for all participants. It outlines the behavior we expect from every participant and serves as a guideline for fostering a positive and collaborative atmosphere during the workshop. If you have any questions or concerns about the Code of Conduct, please do not hesitate to reach out to any members of the local organising committee before the workshop starts.
Please take a moment to refamiliarise yourself with the Code of Conduct: https://www.cosmos.esa.int/web/fairplay/code-of-conduct
---
---
In-Person registration has
closed
It is still possible to register to join the meeting online.
---
Abstract submission has
closed
It is still possible to register for the meeting. Also, do not forget to register when you submitted an abstract.
---
Registration and abstract submission is now CloseD
As of June 1st, registration and abstract submission for the FAIRPLAY workshop is open! You can register to attend in person or virtually. The abstract submission deadline will close at midnight (GMT+1) on the 31st of July. Registration will be open until midnight (GMT+1) on the 14th September for in-person attendees and midnight (GMT+1) on the 27th October for online attendees.
The submitted abstract will be reviewed by the SOC (Science Organising Committee).
Science ORGANISING COMMITTEE (incomplete list, will be updated soon)
Andreas Baas - Kings College London
Sanjeev Gupta - Imperial College London
Baoli Liu - Binjiang Institute of Zhejiang University
Ralph Lorenz - Applied Physics Laboratory
Jo Nield - University of Southampton
Christian Schröder - Stirling University
Candice Bedford - Purdue University
---

1st Announcement: FAIRPLAY workshop
The Fluvial Aeolian InteRactions on PLAnetarY surfaces workshop (FAIRPLAY) aims to promote synergy between different scientific communities that are directly or indirectly involved in the research of aeolian-fluvial interactions on planetary surfaces.
This workshop is organised by the Working group on Aeolian-Fluvial Terrain Interactions (WAFTI), recently established at the European Space Agency (ESA). The workshop will be a hybrid event with space for 100 in-person attendees. Registration and abstract submission will be free of charge.
The workshop focusses on aeolian-fluvial interactions on Earth, Mars and Titan, in the following subject areas:
The influence of aeolian transport on fluvial morphodynamics and vice versa
Sediment transport, sediment budgets and bedform dynamics
Sedimentology
Coupling between atmospheric and surface processes
Remote sensing and in situ measurements
Planetary analogues
Implication for past or present habitable environments on other planets
The potential for future exploration and investigation of planetary surfaces
We accept research on all spatial and temporal scales.

Date: 1-3 November 2023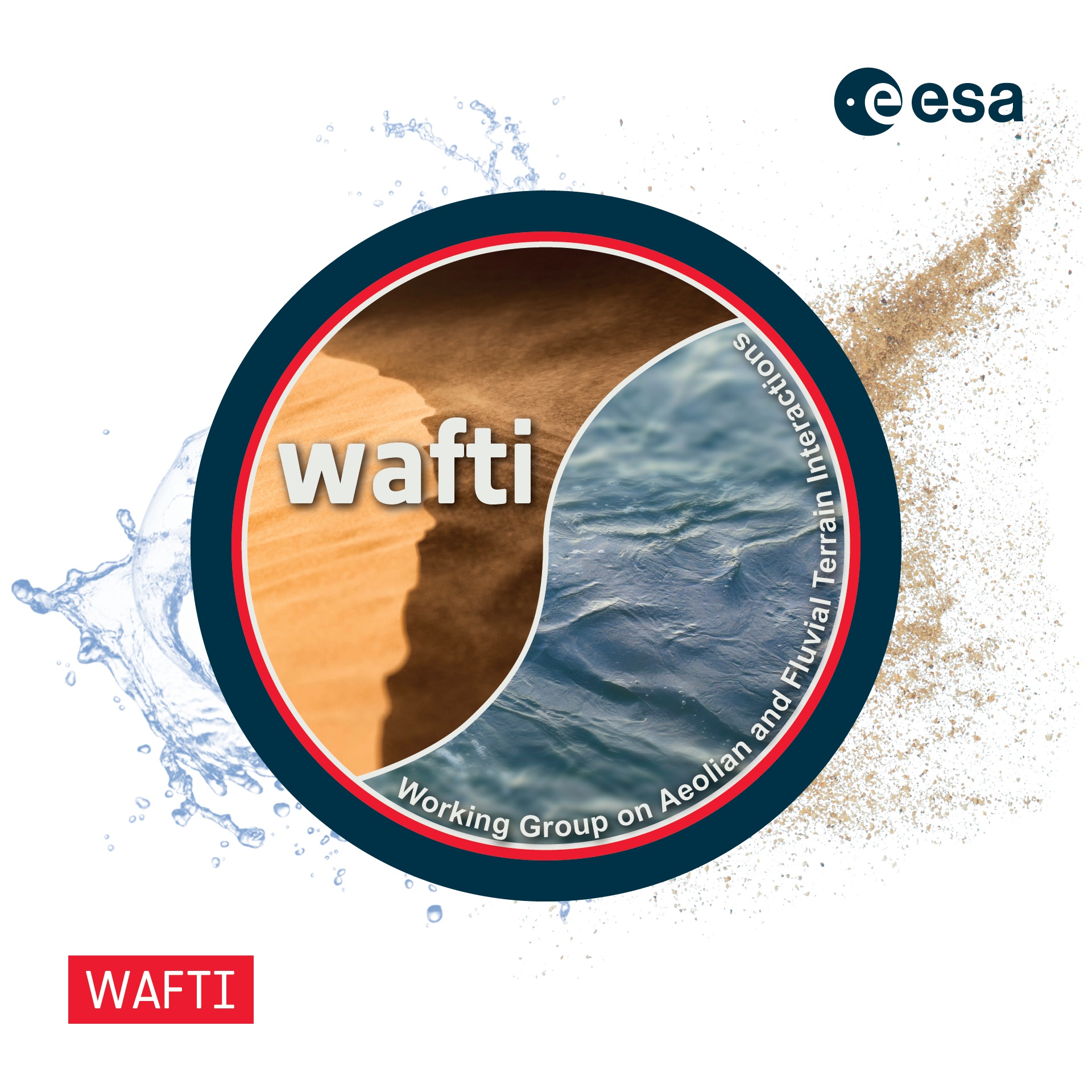 LOCAL ORGANISING COMMITTEE (WAFTI MEMBERS)
Rickbir Bahia – ESA/ESTEC
Eleni Bohacek – ESA/ESTEC
Lisanne Braat – ESA/ESTEC
Lucie Riu – ESA/ESAC
Sarah Boazman – ESA/ESTEC
Colin Wilson – ESA/ESTEC
Elliot Sefton-Nash – ESA/ESTEC