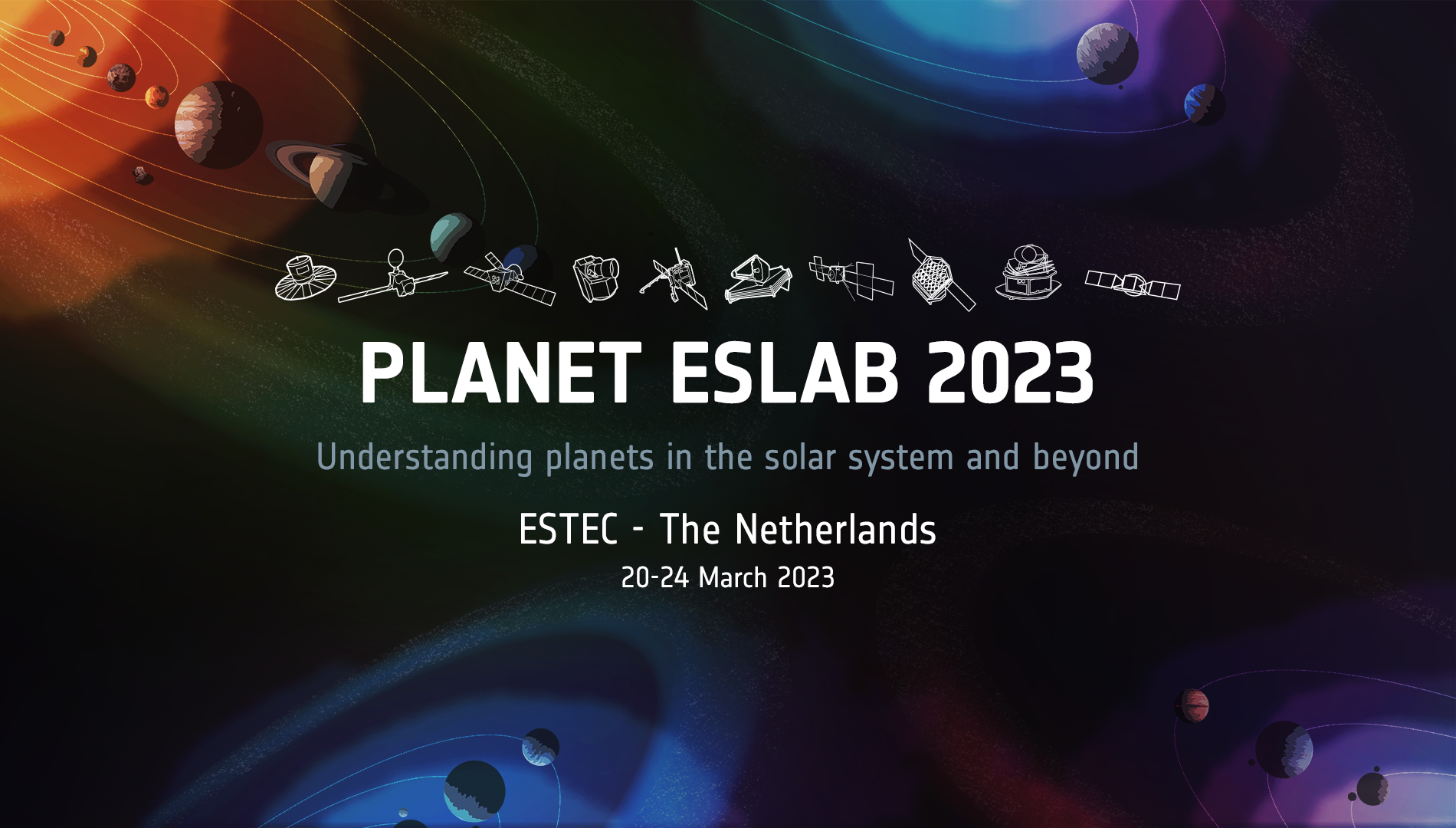 The Symposium aims at bringing together the communities involved in our fleet of planetary and exoplanetary science missions and exploring their synergies
Themes to be covered in the Symposium, for both solar system planets and exoplanets, will include:
Planetary formation & evolution
Planetary system architecture, dynamics, stability
Interior structure & processes
Surface geological & geophysical processes
Atmospheric dynamics & chemistry
Ionospheres, magnetospheres, plasma environment
Stellar/solar activity and interaction with planet
Habitability & exobiology
We welcome presentations in all aspects of planetary and exoplanetary science, in disciplines ranging from observation techniques and data analysis to interpretation and modelling.
The Symposium will be held on 20-24 March 2023 at ESA-ESTEC, in the Netherlands. We envisage a hybrid conference with both in person and virtual participation options; further details will be announced soon.
ESLAB is an annual Symposium organised by the Science and Operations Department in the European Space Agency's Directorate of Science. The ESLAB Symposia have been held since 1966 having as main objective to foster scientific cooperation.
The Symposium poster can be downloaded here.
---
DEADLINES and milestones
12 October 2022: Abstract submission opens
11 November 2022: Deadline for abstracts of contributed talks
16 December 2022: Communication to authors of accepted contributed talks
26 January 2023: Registration opens
26 February 2023 at 11:59 PM (CET): End of early bird registration for onsite participation
3 March 2023: Poster abstract submission deadline
10 March 2023: Poster submission for online presentation deadline
16 March 2023 at 11:59 PM (CET): Onsite and online registration close
20 March 2023: Symposium begins
---
Confirmed invited speakers
Sudeshna Boro Saikia (U. Vienna)
Heather Cegla (U. Warwick)
Charles Cockell (U. Edinburgh)
Quentin Changeat (ESA)
Jonathan Fortney (U. California)
Ravit Helled (U. Zurich)
Inga Kamp (U. Groningen)
Raphael Luque (U. Chicago)
Lena Noack (FU Berlin)
John Plane (U. Leeds)
Laura Schaefer (U. Stanford)
Josep M. Trigo-Rodríguez (CSIC-IEEC, Barcelona)
---
Scientific Organising Committee
Natalie Batalha – UCSC, USA
David Ehrenreich – U. Geneva, CH
Leigh Fletcher – U. Leicester, UK
Maximilian Günther – ESA/ESTEC
Ana Heras (co-chair) – ESA/ESTEC
Gaitee Hussain – ESA/ESTEC
Theresa Lüftinger – ESA/ESTEC
Alberto Moreira – DLR, DE
Veerle Sterken – ETH Zurich, CH
Anne-Grete Straume – ESA/ESTEC
Dmitri Titov - U. Leiden, NL
Nienke van der Marel – U. Leiden, NL
Ingo Waldmann – UCL, UK
Colin Wilson (co-chair) – ESA/ESTEC
Olivier Witasse – ESA/ESTEC
LOCAL organising commitTEE
Stefano Bellotti - ESA/ESTEC
Anne Daniels - ESA/ESTEC
Maximilian Günther – ESA/ESTEC
Ana Heras (co-chair) – ESA/ESTEC
Gaitee Hussain – ESA/ESTEC
Theresa Lüftinger – ESA/ESTEC
Mylene Riemens - ESA/ESTEC
Anne-Grete Straume – ESA/ESTEC
Colin Wilson (co-chair) – ESA/ESTEC
Olivier Witasse – ESA/ESTEC