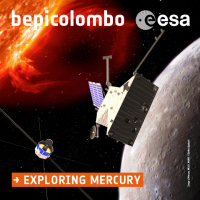 BepiColombo - Exploring Mercury
Europe's first mission to Mercury
Welcome to ESA's website for the BepiColombo scientific community and the BepiColombo Science Ground Segment. The target audience for this site is scientists and engineers involved in the BepiColombo mission. ESA pages for the general public interested in the BepiColombo mission can be found here

.
Where is BepiColombo & Attitude Viewer
Interactive 3D tools
showing t
he spacecraft attitude and w
here the BepiColombo spacecraft is on any given day from launch in
October 2018
to just beyond the end of its cruise phase end of
2025
. To play with the tools click here.