Workshop Dinner
PLEASE, MARK YOUR MENU PREFERENCE BELOW BY SEP 29th
The workshop dinner will be held on October 4th at 19:30 at:
Restaurante Palacio de Cibeles
Plaza Cibeles, 1, 28014 Madrid, Spain
The restaurant is located on the 6th floor of Madrid City Hall.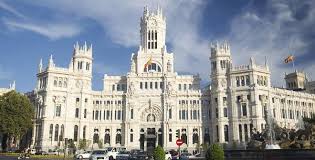 Palacio de Cibeles is 20-min walking distance from the Workshop pick-up/drop-off point located in Plaza de España. The map below shows two recommended routes for good weather: the fastest one (Gran Via) and a longer stroll to enjoy some of Madrid's landmarks (Sol). We also indicate the two closest Metro stations that require a change (Callao station: Line 3 (yellow) --> Line 2 (red)). Click on the map upper left button to access the legends.
MENU PREFERENCE
If you did not mark any dietary restrictions on the registration form, mark your choice for fish or meat by 29 Sep 2017 in this Doodle poll.
RECEPTION MENU
We will start with a welcome drink (19:30), followed by dinner (20:00)
Fish Option
Meat Option

Vegetarian (requested upon registration)

Roasted pumpkin, nori seaweed, red onion and honey

Norwegian salmon, "cava", saffron and horseradish

Iberian pork chop, wine reduction, roasted peach and green pepper

Risotto with vegetables

Nougat mousse, chocolate and artisan ice cream/Fresh fruit brochette**

Sommelier's wine selection

Natural water with and without gas

Natural roasted coffee and herbal teas
*Extra drinks as beers, soft drinks are not included in the menu.
**Gluten/nut allergies and lactose intolerance