PRESENTATIONS AND HANDS-ON MATERIAL USED DURING THE WORKSHOP:

For the plenary sessions the presented slides are available. The recorded videos will be available before the end of the year.
For the hands-on sessions the guideline documents and needed files (spectrum, catalogue or image) are provided to replicate the exercises done during the workshop. The solution to each exercise is also provided in the form of APT file and/or ETC workbook). Please note that by design, ETC workbooks cannot be saved outiside the STScI ETC server and they can only be shared with user with a MyST account. Anyone with a MyST account can request the access to specific workbooks using the appropriate link "Request workbook".
Instructions for the installation of the various tools needed for the hands-on session are available here
For people interested in a specifc instrument or observing mode, the table at the end of this page summarizes all available hands-on material in a more compact form.
​For any technical issue with this page please contact jwst_workshop@sciops.esa.int

​For any question related to the JWST Tools, JWST Instruments, observing modes or the contect of the material presented here, please contact the JWST help desk

https://stsci.service-now.com/jwst
The science cases and their proposal implementations presented in this workshop are in general simplified for training purposes. Further optimization is usually possible. Users should consult the online documentation and the JWST help desk to decide what are the best options for their specific science programs.
PRESENTATIONS DAY 1-3
| TITLE | TYPE | MATERIAL |
| --- | --- | --- |
| Welcome and Introduction | Presentation (M. Sirianni) | |
| JWST Project Status | Presentation (P. Ferruit) | |
| JWST Proposal and Timeline | Presentation (J. Valenti) | |
| Observing Modes available in cycle 1 | Presentation (C. Chen) | |
| Proposal Toolbox and Preparation Flow | Presentation (M. Garcia Marin) | |
| How to Implement Parallels | Presentation (J. Valenti) | |
| Coronagraphic Tools | Presentation (W. Blair) | |
| Time series Observations Tools | Presentation (K. Stevenson) | n/a |
| Moving Target Tools | Presentation (T. Roman) | |
| JWST Help Desk | Presentation (S. Bright) | |
Documentation TOOL (JDOX)
| TITLE | TYPE | MATERIAL |
| --- | --- | --- |
| JDOX Introduction | Presentation (S. La Massa) | |
| JDOX Hands-on Session | Hands-on exercise | |
TARGET VISIBILIY TOOLs
| | | |
| --- | --- | --- |
| TITLE | TYPE | MATERIAL |
| Target Visibility tools - Introduction | Presentation (W. Blair) | |
| Hands-on Session | Hands-on exercise | Guideline |
ESASKY
| | | |
| --- | --- | --- |
| TITLE | TYPE | MATERIAL |
| ESASky Introduction | Presentation (B. Merin) | |
| Hands-on Session | Hands-on exercise | Guideline |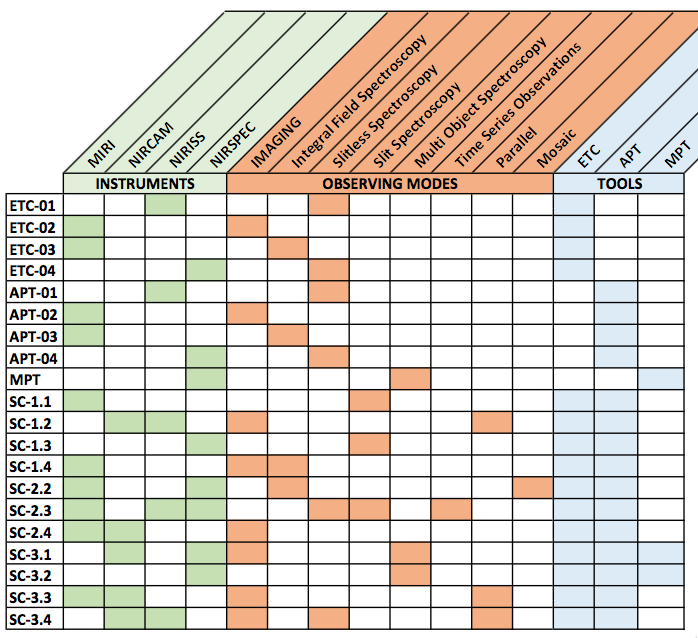 EXPOSURE TIME CALCULATOR (ETC)
TITLE

TYPE

MATERIAL

ETC - Introduction
Presentation (S. Ravindranath)
ETC - Demonstration
Presentation (S. Kendrew)

Hands-on sessions:

ETC01-
NIRISS[Slitless Spectroscopy] High-z Galaxy

---------------------

ETC02-
MIRI[Imaging] SN1987A

---------------------

ETC03-
MIRI[IFU] SN1987A

---------------------

ETC04-
NIRSPEC[IFU] SN1987A

---------------------
ASTRONOMER PROPOSAL TOOL (APT)
TITLE

TYPE

MATERIAL

APT - Introduction
Presentation (D. Taylor)
APT - Demonstration
Presentation (C. Alves de Oliveira)

Hands-on sessions:

APT01-

NIRISS[Slitless Spectroscopy] High z Galaxy

Associated ETC file : ETC-01

----------------

APT02-

MIRI[Imaging] SN1987A

Associated ETC file : ETC-02

APT03-

MIRI[Integral Field Spectroscopy] SN1987A

Associated ETC file : ETC-03

----------------

APT04-

NIRSPEC[Integral Field Spectroscopy] SN1987A

Associated ETC file : ETC-04

----------------
NIRSpec MULTI OBJECT SPECTROSCOPY - MSA PLANNING TOOL (MPT)
| TITLE | TYPE | MATERIAL |
| --- | --- | --- |
| NIRSpec MPT | Presentation (D. Karakla) | |
| Hands-on Session | Hands-on exercise | |
SCIENCE CASES (USING ALL TOOLS)
TITLE

TYPE

MATERIAL

Science Cases Instructions
Presentation (N. Lützgendorf)

Hands-on Sessions

SC-1.1 MIRI LRS slit observations of SMMJ123616.15+621513.7

MIRI [SLIT Spectroscopy]

-------------

SC-1.2 Metallicity gradients in M87, a Virgo giant elliptical
NIRCAM [Imaging] + NIRISS [Imaging in parallel]

-------------

SC-1.3 Near-IR spectroscopy of Y dwarfs
NIRSPEC (SLIT Spectroscopy)

-------------

SC-1.4 Spectroscopic-Imaging of PDRs: JWST observations of the Pillars of Creation.

MIRI [Integral Field Spectroscopy and Imaging]

-------------

SC-2.2 Feeding and feedback of supermassive black holes. Resolved gas kinematics within 100pc of the NGC4151 AGN.
NIRSpec (Integral Field Spectroscopy - Mosaic) and MIRI (Integral Field Spectroscopy - Mosaic)

-------------

SC-2.3 TSO observations with NIRISS, NIRSpec and MIRI

Time Series Observations:

NIRSpec [Bright Object Time Series] NIRISS [Single Object Slitless Spectroscopy], MIRI [Slitless Low Resolution Spectroscopy]

-------------

SC-2.4 Photometry of Nearby Galaxies: NIR-MIR structure of Arp220
NIRCAM [Imaging] + MIRI [Imaging]

-------------

SC-3.1 Brown-dwarfs in star-forming clusters
NIRSpec [Multi Object Spectroscopy] + NIRCAM [pre-imaging]

-------------

SC-3.2 NIRSpec Multi-Object Spectroscopy of distant galaxies
NIRSpec [Multi Object Spectroscpy]

-------------

SC-3.3 Deep Field Survey with NIRCam and MIRI
NIRCam [Imaging] +MIRI [Imaging in parallel]

-------------

SC-3.4 CANUCS: The Canadian NIRISS Unbiased Cluster Survey

NIRISS [Wide Field Slitless Spectroscopy] + NIRCAM [Imaging in parallel]

-------------