Mission Status
ARIEL has been selected as the M4 mission in the ESA science programme Cosmic Vision long term plan in March 2018, and is currently (2020) undergoing Definition Study (phase B1), ultimately leading to mission adoption planned for November 2020.
The path from the M4 call for proposals until today is summarised in the figure below: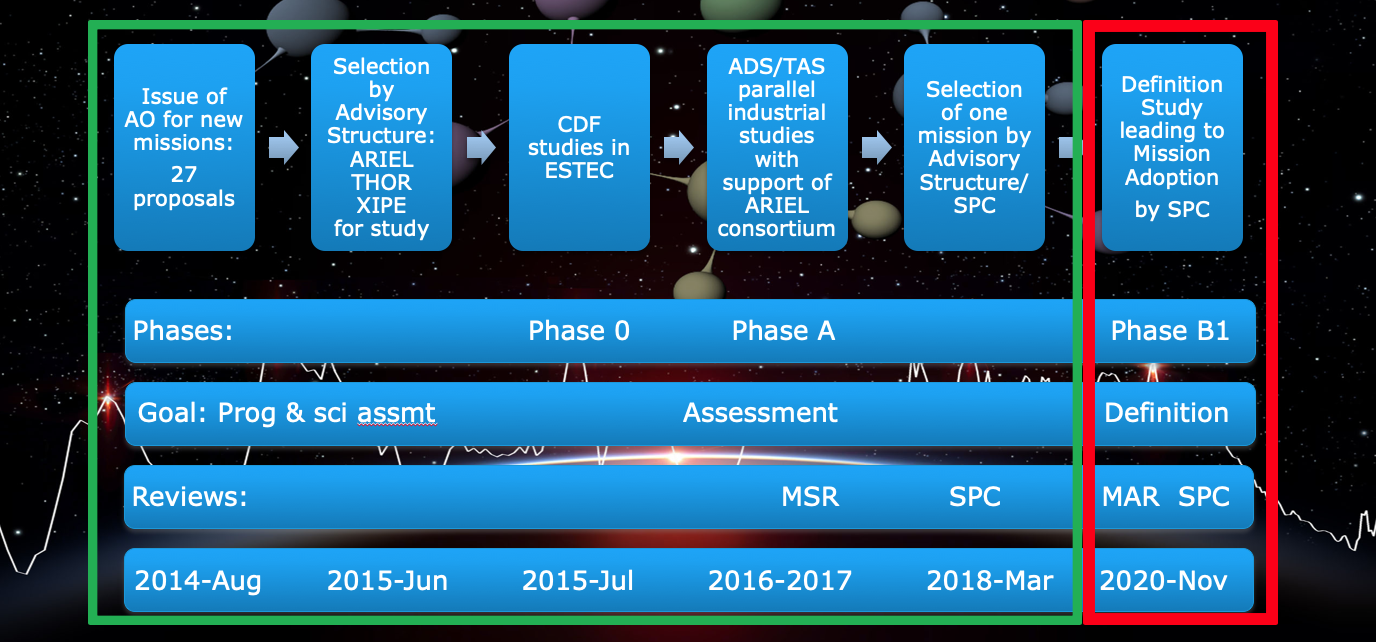 Everything inside the green rectangle in the figure above has been accomplished. Currently (2019) the Definition Study (phase B1) is ongoing (red rectangle in the figure above) ultimately leading towards the next major mission miletone, the Mission Adoption planned in 2020. In bulletform text:
2014 August: The Call for proposals for the M4 mission was issued by ESA.
2015 January: The ARIEL proposal was submitted to ESA. It was one of 27 proposals competing for the M4 opportunity.
2015 June: After programmatic and scientific assessment three proposals were downselected to undergo industrial studies. The first phase (phase 0) was Concurrent Design Facility (CDF) studies conducted in ESA/ESTEC in the summer of 2015.

2016-17: Assessment Study (phase A), industrial studies supported ESA and proposal teams. Each proposal was studied in parallel by two industral consortia in competition. For ARIEL these were Astrium Defence and Space (ADS) in Toulouse, France, and Thales Alenia Space (TAS) in Cannes, France.

2018 March: ARIEL was selected by the ESA Science Programme Committee (SPC) as the M4 mission. The ARIEL payload module will be provided by the ARIEL Consortium. The selected mission is described in the 'Asessment Study Report', normally referred to as the 'Yellow Book'.

2018-19: Definition Study (phase B1), industrial studies by ADS and TAS supported ESA and the ARIEL Consortium, who continue to work on the payload module.

2020: The mission proposed for adoption will be described in the 'Definition Study Report', normally referred to as the 'Red Book', to be issued in the summer 2020 timeframe. The Mission Adoption Review (MAR) is planned for the second quarter 2020, and the Mission Adoption by the SPC is planned for November 2020.
With a successful mission adoption on the schedule above the actual implementation of the mission would start in 2021, with launch by an Ariane 62 launcher planned for 2028, followed by a nominal 4 year mission, with a possible extension to 6 years.