Introduction
Cosmographia is a visualization program rendering the solar system and its bodies in 3D to create a freely navigable map of the solar system. The program allows manipulation of time and camera (observer) position. It can use SPICE data to visualize trajectory, orientation, and sensors flown on and observations taken by interplanetary spacecraft, to support scientific or engineering analysis, and perhaps even public outreach.
The Cosmographia JUICE plugin is a software that adds extra features to the Cosmographia tool allowing an easy 3D visualisation of the JUICE spacecraft manoeuvres and instrument pointing.
The package deals with the tedious build-up of Cosmographia catalog files, hiding the low level details and providing a turn-key solution for quick and easy visualization of JUICE pointing
Plugin Features
Creation of complete Cosmographia scenes.
JUICE Spacecraft 3D Models integrated.
Sensor and observation configuration.
Automatic SPICE Kernel setup based on metakernels.
Important Notice: The plugin is only available for the following platforms:
Mac OSX (64-bit)

Linux (64-bit)
Windows based versions are not supported due to the lack of scripting capabilities
Configuration Remark: Ensure that Cosmographia uses SPICE for body ephemerides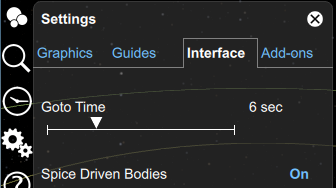 Plugin Installation
If needed, download

Cosmographia 4.0

corresponding to your OS from ESAC SPICE service ftp:

Download the last version of the Cosmographia Juice plugin appropiate to your cosmographia version
Extract the Juice plugin zip content within the folder 'cosmographia-4.x'
Plugin usages
On Mac/Linux platforms, Cosmographia includes a Python-based scripting interface, providing access to many of the program's elementary visualization functions and allowing users to create visualization sequences using these functions. The plugin uses this capability to get access to the Cosmographia resources.
Basic Visualization
To use the visualization plugin, after installing it:
Start Cosmographia, in the top menu select 'File > Run Scripts'. Navigate to the 'cosmographia-4.0/juice_plugin/plugin'.
Select the 'juice.py' script. The 'juice.py' is the plugin that allows the creation/visualisation of Cosmographia scenarios.
The tool shows a dialog that allows to configure the scenario creation.
The plugin needs as mandatory input a valid spice metakernel with JUICE configuration (e.g. juice_crema_3_1_ops_v210.tm). More details on JUICE kernels available can be found in the ESAC SPICE service pages
Clicking in the Generate Scenario button, will create the scenario with the attitude contained in the metakernel. The tool will setup the camera near to JUICE and the user can start the spatial/temporal navigations.
Advanced Visualization
Finally, the user can visualize specific instrument/sensor observations using the widget in the Advanced tab. After inserting a sensor, a date and a duration, the tool will show the instrument boresight and its operation.
Some convenience features for importing Mapps/EPS ITL/EV files have been also included in the tool. Contact us, if you need more information on those functionalities.