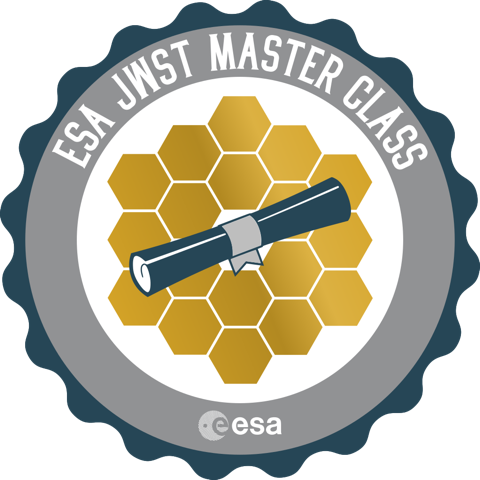 MASTER CLASS PRE-ASSIGNMENTS
In preparation to the Master Class event, participants are expected to set up their computer and familiarize themselves with the basic tools using the assignments listed here
MASTER CLASS PROGRAM AND MATERIAL
All videos are stored in a SFTP server that can be accessed anonymously with an FTP client that allow SFTP connection (e.g Filezilla, Cyberduck, WinSCP) to sftp://ftp.cosmos.esa.int/pub/jwstlib/Masterclass/Videos/
Start

Duration

MONDAY FEB 3 - DAY 1 - ESAC Building D

PRESENTATIONS AND HANDS-ON MATERIAL DAY 1

Links to the videos are provided in column 3 after the title of the presentation

8:15

1:00

Bus Departure from Hotel Exe Moncloa

9:15

0:15

Badging ESAC Security Office

9:30

0:10

Welcome to ESAC

M. Kissler-Patig

9:40

0:15

Master Class Overview

M. Sirianni

9:55

0:15

Training Package

M. Garcia Marin

10:10

0:30

Mission Status

P. Ferruit

10:40

0:30

Cycle 1 Call for Proposal - video02

A. Nota

11:10

0:20

Coffe Break

11:30

0:20

Proposal Preparation Roadmap - video03

C. Alves de Oliveira

11:50

1:10

Proposal Tools - video04, video05

T. Rawle /C. Mannfolk

13:00

1:00

Lunch - ESAC Cafeteria

14:00

2:30

Observing Science Modes

Imaging - video06

T. Greene

Coronagraphy- video07

C. Willmer

Integral Field and Slit Spectroscopy- video08

N. Luetzgendorf

Multi Object Spectroscopy- video09

G. Giardino

Wide Field Slitless Spectroscopy- video10

L. Albert

16:30

0:20

Coffe Break

16:50

0:30

Background & Visibility Tools - video11

T. Boeker

17:20

0:10

Wrap up day 1

M. Garcia Marin

17:30

1:00

Cocktail Reception Hill Building B

18:30

BUS Departure To Hotel Exe Moncloa
Start

Duration

TUESDAY FEB 5 - DAY 2 - ESAC Building D

PRESENTATIONS AND HANDS-ON MATERIAL DAY 2

Links to the videos are provided in column 3 after the title of the presentation

8:30

1:00

Bus Departure from Hotel Exe Moncloa

9:30

1:30

Exposure Time Calculator (HO) - video12

S. Kendrew

11:00

0:20

Coffe Break

11:20

1:30

APT HO - video13

A.Armstrong

12:50

1:00

Lunch - ESAC Cafeteria

13:50

1:00

Imaging (HO) - video14

M. Garcia Marin/ T. Greene

14:50

1:00

Integral Field Spectroscopy (HO) - video15

N. Luetzgendorf

15:50

0:20

Coffe Break

16:10

1:00

Multi Object Spectroscopy (HO) - video16

T. Rawle

17:10

1:00

Slit Spectroscopy (HO) -video18

E. Puga

18:10

BUS Departure To Hotel Exe Moncloa
Start

Duration

WEDNESDAY FEB 6 - DAY 3 - ESAC Building D

PRESENTATIONS AND HANDS-ON MATERIAL DAY 3

Links to the videos are provided in column 3 after the title of the presentation

8:30

1:00

Bus Departure from Hotel Exe Moncloa

9:30

1:00

Wide Field Slitless Spectroscopy (HO) - video

L. Albert

10:30

1:00

Coronagraphy (HO) -video19

C. Willmer

11:30

0:20

Coffe Break

11:50

0:30

Time Series Observations - video20

S. Birkmann

12:20

0:30

AMI (HO) - Video21
L. ALbert

12:50

1:00

Lunch - ESAC Cafeteria

13:50

0:30

Moving Targets - Video23

B. Holler

14:20

1:00

Parallel Programs Video24- Video25

C. Willmer/C. Mannfolk

15:20

0:30

How to write a successful proposal - Video26

A. Nota

15:50

0:10

Conclusion

M. Sirianni

16:00

BUS Departure To Hotel Exe Moncloa


MASTER CLASS PROGRAM LOGISTIC INFORMATION:
The meeting will take place at the European Space and Astronomy Centre (ESAC) in Villanueva de la Cañada near Madrid, Spain. Information on how to get to ESAC can be found here.
Master Class Shuttle
Bus Shuttle between Madrid and ESAC will be provided free of charge during the duration of the Master Class event.
The Shuttle will leave and arrive in front of the Hotel Exe Moncloa - Calle Arcipreste de Hita, 10, 28015 Madrid, Spain. See the daily program for departure times
GETTING TO ESAC BY CAR
Arriving by car usually takes 20' from Moncloa and 30' from Plaza de Espana. Unfortunately, traffic from 7:30 to 9:00 and from 17:00 to 19:00 could cause delays, up to 50 minutes.
TAXIS AND OTHER
Taxis to hotels/airport can be arranged during the workshop at the registration desk.
USEFUL INFORMATION ABOUT MADRID