ESA JWST Master Class - Results
The European Space Astronomy Center (ESAC) in Madrid will host the first ESA JWST Master Class on 3-5 February 2020. During this 2.5 day workshop JWST experts will train selected researchers from ESA member states on JWST proposal planning tools, resources and documentation so they can share their knowledge with other scientists in their local community. The selected participants to the ESA JWST Master Class will organize JWST workshop in the local insitutions between February and April 2020 to support the preparation of proposals for the JWST Cycle 1.
The map below shows the expected locations of JWST local workshops that will be organized by the ESA JWST Master Class graduates in the period February-April 2020.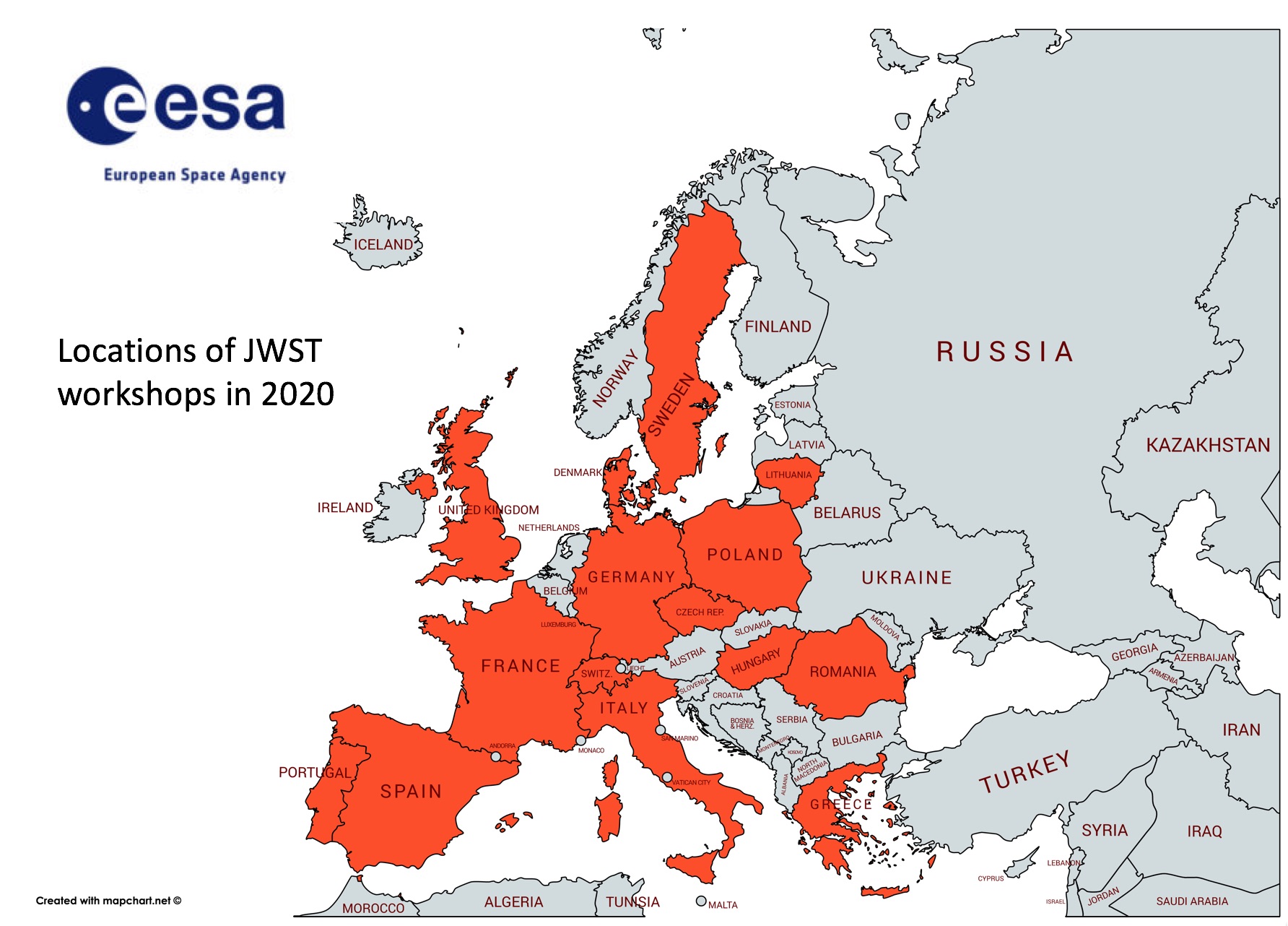 The tables below list the selected participants, their affiliation and the proposed location for the local workhop. The information regarding the local workshops will be updated when the plan is finalized.
ESA Member States
PI

Affiliation

Workshop Location

Workshop Dates

WORKSHOP LINK

Steffen Rost

Institute of Physics - I, Köln

- Germany

Czech Technical University - Prague

Czech Republic

TBC

Nina Bonaventura

Gabriel Brammer

Cosmic Dawn Center - Niels Bohr Institute University of Copenhagen - Denmark

Geologial Museum, Univ. -Copenhagen - Denmark

TBC

Hakim Atek

Institut d'astrophysique de Paris, Paris

- France

Paris - France

TBC

Eduardo Banados

Max Planck Institute for Astronomy, Heidelberg

- Germany

Max Planck/Heidelberg

Germany

TBC

Maria Dasyra

Vassilis Charmandaris

Department of Astrophysics, Astronomy, & Mechanics - Faculty of Physics, School of Sciences - University of Athens, Athens

Department of Physics - University of Crete

- Greece

University of Athens - Greece

TBC

Agnes Kospal

Konkoly Observatory, Research Centre for Astronomy and Earth Sciences of the Hungarian Academy of Sciences, Budapest

-Hungary

Konkolv Observatory Budapest - Hungary

TBC

Francesca Annibali

Simone Ievi

INAF - Astropysical Observatory, Bologna

INAF - Astronomical Observator, Rome

- Italy

INAF - Astrophysics and Space science Observatory (OAS) workshop in Bologna, at INAF - OAS

TBC

Šarūnas Mikolaitis

Institute of Theoretical Physics and Astronomy Vilnius University, Vilnus

- Lithuania

TBC - Lithuania

TBC

Agata Karska

Nicolaus Copernicus University, Toruń

- Poland

TBC - Poland

TBC

Nanda Kumar

Institute of Astrophysics and Space Sciences, Porto

- Portugal

TBC - Portugal

TBC

Dimutru Bogdan Alexandru

Institute of Space Science, Ilfov

-Romania

Institute of Space Science Ilfov

Romania

TBC

Raphael Shirley

Instituto de Astrofisica de Canarias, Tenerife

- Spain

Instituto de Astrofisica de Canarias, Tenerife, Spain

TBC

Maria Drozdovskaya

CSH, Bern

-Switzerland

CSH, Bern, Switzerland

TBC

Aaryn Carter

Sasha Hinkley

University of Exeter, Exeter

-UK

University of Exeter, UK

TBC
NON ESA Member States
PI

Affiliation

Workshop Venue

Date

Workshop Link

Themiya Nanayakkara

Centre for Astrophysics and Supercomputing

Hawthorn, Victoria

Australia

Australia

TBC

Susan Loubser

Centre for Space Research, North-West University

Potchefstroom, North-West Province

South Africa

South Africa

TBC

Hanae Inami

Shunsuke Baba

Hiroshima University

Higashi-Hiroshima, Hiroshima

Japan

Japan

TBC