Hotel Monte Rozas and ESAC
Hotel Monte Rozas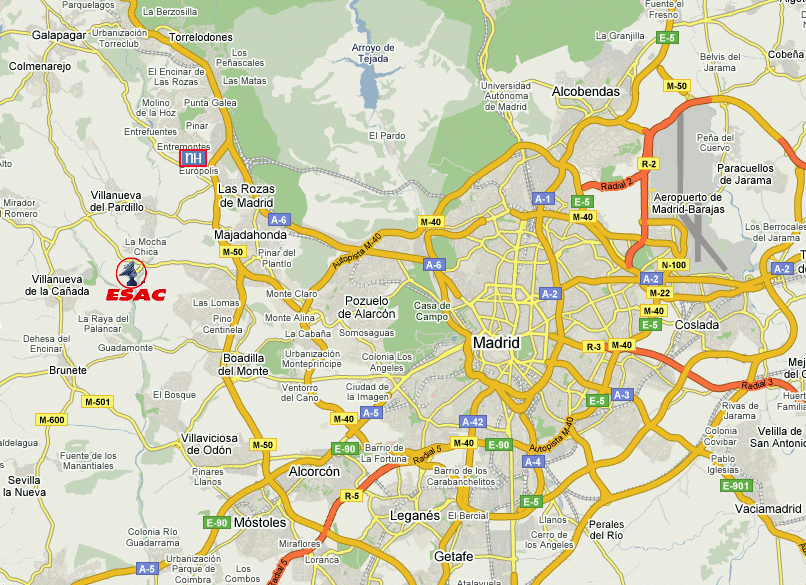 The Hotel Monte Rozas is one of the closest hotels to ESAC. It is lying between Las Rozas and El Escorial on the major road M505:
Crta.Las Rozas-El Escorial, KM 5
28232 Las Rozas, Madrid
Spain
Tel: 00 34 91 640 74 24
Fax 00 34 91 640 60 22
recepcion@hotelmonterozas.com
To reach the hotel from the airport follow the guidelines on the driving directions page to get to the A6 (A Coruña), which you stay on until exit 18 where you take the M505, direction El Escorial. You pass Las Rozas and the 'Europolis' zone to your right.

After crossing the M50 you come to a first roundabout where you still go straight. Shortly after that, coming over a hilltop you see a
"Repsol" gasoline station to your right. Exit there and drive past the station to get to the hotel which is slightly hidden behind it.
To reach ESAC from Hotel Monte Rozas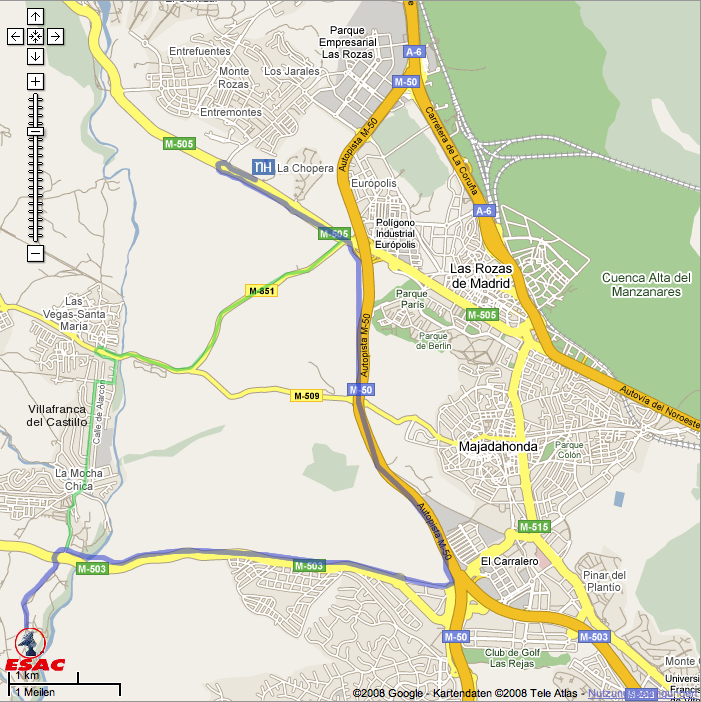 Exit from the hotel parking on the M505, turn around at the roundabout. Pass the next roundabout, then keep to your right and leave the M505. There are now two options:
Usually it is faster and more comfortable to continue via the M50, which you take in direction south, then exit for the M503 direction Villanueva de la Cañada. You come up to a roundabout where the M503 goes off as a four lane road to your right. From there it is as described above, i.e. follow until exit #19 then the ESA logo. This path is indicated in blue in the map to the right.
Should you want to go smaller roads - or have turned off too sharply trying to get to the M50 - you can also follow the M851 and then the M509 direction Villanueva del Pardillo. Right after joining the 4-lane M509 turn off right again to follow the small road beneath the bridge. At the next roundabout you turn left and go through the Urbanización Villafranca del Castillo (there are guards, but you may pass freely). Follow the main flow taking either of the long roads on the sides of a central long park stretch. At the other end turn right then soon left - there are some signs towards ESA there. This path is marked in green.
Restaurant options around Hotel Monte Rozas
The hotel is lying isolated along a major road. Right across the hotel is the Restaurant Gaztelubide, which is rather good. For other options see our page on Restaurants.