Hotel La Ermita and ESAC
Reaching ESAC
Information on how to reach ESAC from the airport or Madrid can be found under this link (ISOC) or from the "Getting to ESAC" pages of the ESAC main site.
From the airport to Hotel La Ermita
(based on hotel web page)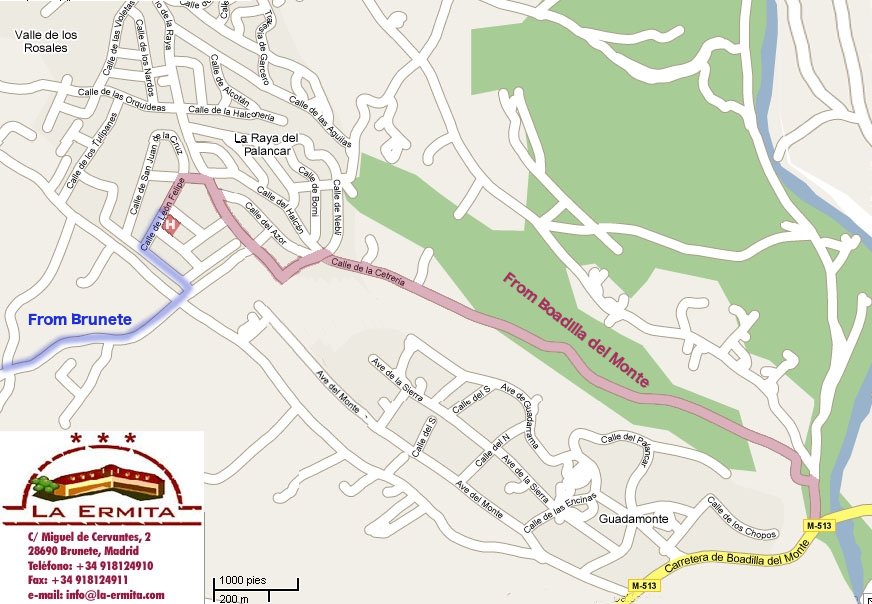 The hotel is located in a settlement (Urbanización La Raya del Palancar) lying between Brunete and Boadilla del Monte, a bit off any major road; see the map on the right (click for larger version). From the airport the easiest is to first get on the M40 Norte (see instructions above for ESAC). Take Exit 41 direction M513, Boadilla del Monte. You stay on the M513 passing Boadilla del Monte and crossing the M50, winding your way down to the river valley (attention: there is one radar trap along this route).

Just after crossing the bridge across the river Guadarrama (km 12.7), turn right direction La Raya del Palancar. Entering the Urbanización take the first road to the left, this becomes Calle Cetrería turning off left at a crossing. Then turn right into Calle Ronda (de la Raya) and take the second turn left via Calle Emilia Pardo Bazán and again left into the Calle León Felipe. See the map on the right for the details. The hotel entrance is to the northeast.
From ESAC to Hotel La Ermita or vice versa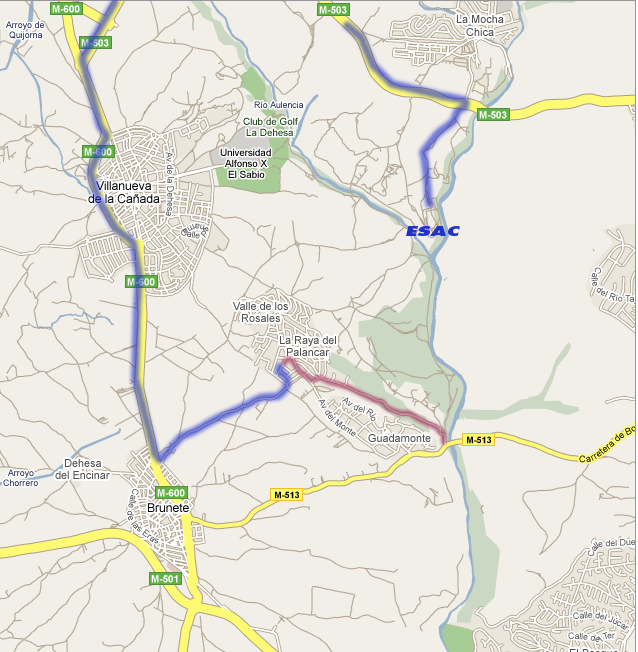 The easiest connection from ESAC is to follow the M503 all the way to the M600 and Villanueva de la Cañada and from there to Brunete. See the path marked in blue on the map of the hotel surroundings to the left.
Entering Brunete one turns left at the first roundabout (decorated with Olympic rings) and follows the small bumpy road (signed Urbanización) across the country side. Arriving at the Urbanización, pass Finca "El Larguero"then take first to the left and the second to the right to find the hotel - see also the close-up map above. The entrance is at the north-east, which is not immediately apparent coming from this side.