The Herschel/PACS Point Source Catalogue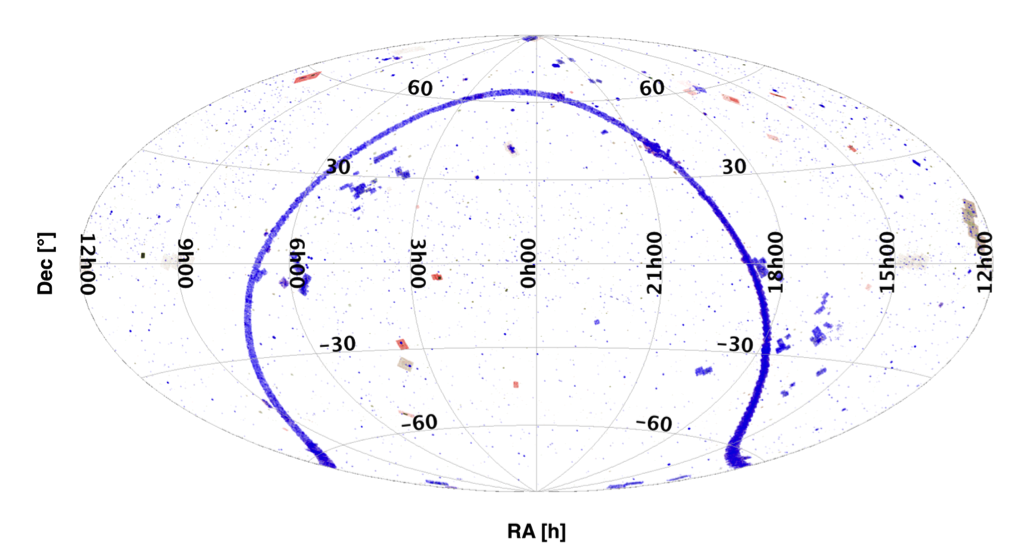 All-sky Aitoff projection of the HPPSC sources included in the Herschel PACS Point Source Catalogue
DOI: https://doi.org/10.5270/esa-rw7rbo7
The first version of the Herschel/PACS Point Source Catalogue (HPPSC) with half million entries distributed over the three PACS bands, has been released on 17 May 2017.
The catalogue has three major tables, one HPPSC table for each band, provided as compressed comma-separated value format files. Two additional tables are provided in the same format: one is a list of slightly extended sources (HPESL) and one is a rejected source list (HPRSL). Links for each table can be found below:
For your convenience, you can also perform queries around a particular position in the sky using the Catalogue Search Tool for Herschel Data available from NASA's Infrared Science Archive (IRSA), or the TAP (Table Access Protocol) service provided by the Herschel Science Archive through convenient VO tools like TOPCAT. The Herschel/PACS Point Source Catalogue is also available through ESASky.
The PACS instrument onboard Herschel mapped ~8% of the far-infrared sky. The broad-band filters were centered at 70, 100 and 160 μm, allowing an angular resolution of 5.6ʺ, 6.8ʺ and 11.3ʺ, respectively. A total number of 14,842 PACS maps were searched for catalogue sources, which were obtained as part of 430 different observing proposals, all performed in standard observing modes, but with a wide variety of science goals.
The HPPSC pipeline performed source extraction and photometry in a systematic and homogeneous way. This procedure was followed by a strict quality check that preferred reliability over completeness. The primary goal was to collect point sources, with an appearance similar to the instrument PSF, a criterium met by most sources detected in extragalactic regions of the sky. But Herschel also observed the entire Galactic Plane and many star forming regions, where most detected sources appear slightly extended. These sources were included in the Herschel/PACS Extended Source List (HPESL). Also, many source detections were found to be of poor quality or unreliable, not satisfying one or more of the selection criteria. These detections were collected and made available in the Herschel/PACS Rejected Source List (HPRSL). We note that HPESL and HPRSL are not part of the highly reliable HPPSC. For all entries the relevant observation identifiers (OBSIDs) are listed, and users are encouraged to check the corresponding maps in the Herschel Science Archive. In addition, the observation table below provides ancillary information about the 14,842 obsids involved in the catalogues generation:
Observation List for Herschel/PACS Catalogues Generation (gzipped csv file; 14,842 entries; 0.5 MB)
The construction procedure, the content and validation processes are detailed in the HPPSC Explanatory Supplement. We emphasize the importance of this document in allowing users to perform valid scientific studies with the catalogue. As it was derived from far-infrared observations, the Galactic cirrus emission is a major limiting factor in photometric accuracy, completeness and reliability. Please read the Cautionary Notes carefully in order to be aware of the caveats on the provided products.
Citation: European Space Agency, 2017, Herschel PACS Point Source Catalogue, Version 1.0. https://doi.org/10.5270/esa-rw7rbo7 ; see also the more general 'Herschel Publishing Rules and Guidelines'.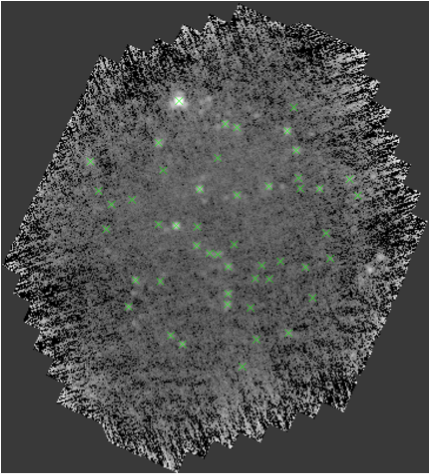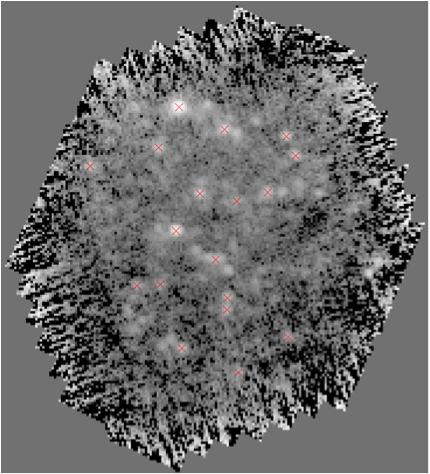 100μm (left) and 160μm (right) maps (ObsID: 1342223332) with overplotted object positions. Crosses represent the sources in the HPPSC.