Herschel Science Team
The Herschel Science Team has as its overall objective (as stated in the Science Management Plan) to safeguard the scientific interests of the Herschel mission.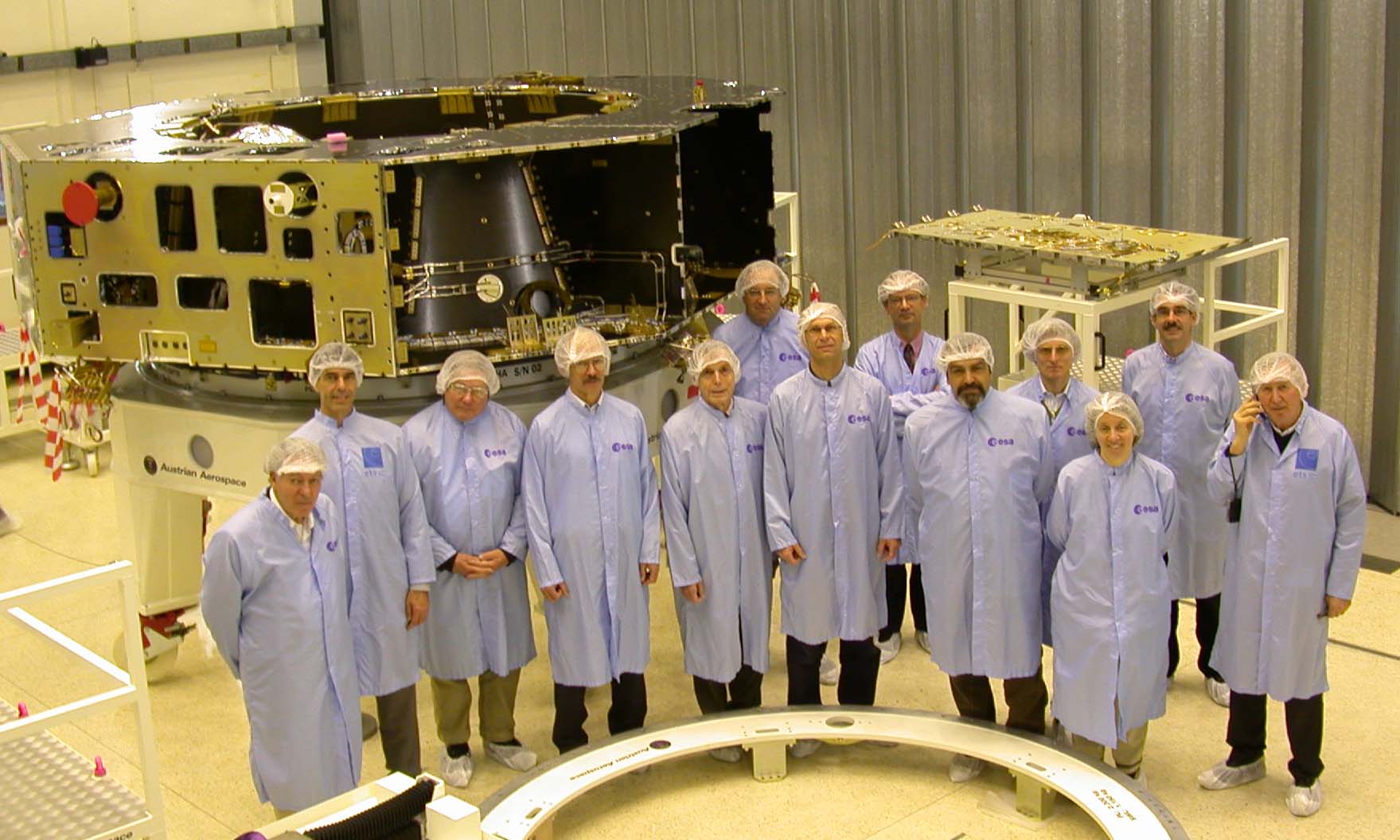 The Science Team was formed in 1998, the first meeting was held in December 1998. Its composition is derived from ESA, the instrument consortia, and a number of Mision Scientists representing the astronomical community `at large'. In 2001 the Herschel Optical System Scientist was added. It is chaired by the Herschel Project Scientist.
During Herschel Science Team meeting#22 on 27 April 2005 the meeting went to see the Herschel service module (SVM) structural thermal model (STM) in the ESTEC Test Centre where it had arrived just a few days before.
In the picture, from left to right: Tom Phillips, Hal Yorke, Pierre Encrenaz, Paul Harvey, Martin Harwit, Matt Griffin, Göran Pilbratt, Christoffel Waelkens, José Cernicharo, Albrecht Poglitsch, Jackie Fischer, Peter Barthel, and Thijs de Graauw. Missing in the picture Gerry Crone and Laurent Vigroux.
The members of the Herschel Science Team are:
(in alphabethical order)
Peter D. Barthel,
Mission Scientist

Kapteyn Astronomical Institute
University of Groningen
P.O. Box 800
NL-9700 AV Groningen
The Netherlands




José Cernicharo,
Mission Scientist

Consejo Superior de Investigaciones Cientificas
Inst de Estructura de la Materia, Dpto Fisica Molecular
C/ Serrano 121
E-28006 Madrid
Spain



Pierre Encrenaz,
Mission Scientist

Observatoire de Paris
DEMIRM
61, avenue de l'Observatoire
F-75014 Paris
France



Jacqueline Fischer,
Optical System Scientist

NRL Remote Sensing Division
Code 7213, Building 2, Room 240A
4555 Overlook Ave SW
Washington, DC 20375-5351
USA



Pedro García-Lario,
Head of HSC/Community Support Group Lead

Science Operations Division / Science Operations Department
ESA/ESAC / SRE-OOH
P.O. Box 78
E-28691 Villanueva de la Cañada
Spain



Matt Griffin,
SPIRE Principal Investigator

Department of Physics and Astronomy
Cardiff University
P.O. Box 913
Cardiff CF24 3YB
United Kingdom



Paul M. Harvey,
Mission Scientist

Department of Astronomy
University of Texas at Austin
Austin, TX 78712
USA



Martin Harwit,
Mission Scientist

511 H Street, SW
Washington, DC, 20024-2725
USA



Frank Helmich,
HIFI Principal Investigator

SRON
P.O. Box 800
NL-9700 AV Groningen
The Netherlands



Tom G. Phillips,
HIFI Co-PI

California Institute of Technology
Mail Code 320-47
Pasadena, CA 91125
USA



Göran L. Pilbratt,
Herschel Project Scientist

Scientific Support Office
ESA/ESTEC / SRE-S
Keplerlaan 1
NL-2201 AZ Noordwijk
The Netherlands



Eckhard Sturm,
PACS Principal Investigator

MPI für extraterrestrische Physik (MPE)
Postfach 1603
D-85740 Garching
Germany



Laurent Vigroux,
SPIRE Co-PI

Institut d'Astrophysique de Paris
98 bis Bvd Arago
F-75014 Paris
France



Christoffel Waelkens,
PACS Co-PI

Katholieke Universiteit Leuven
Celestijnenlaan 200B
B-3001 Leuven
Belgium