XMM-Newton Observations of GRB011211
Events
On December 11, 2001, at 23:53UT, XMM-Newton SOC received a Target of Opportunity notification after the BeppoSAX detection of GRB011211.
This GRB was immediately approved by the XMM-Newton SOC for ToO observation. The observation was started on 2001-12-12T06:16:56Z under ObsId= 0094380101 during XMM-Newton's revolution number 0368 .
The initial pointing coordinates were RA = 11:15:16.4 and Dec = -21:55:44.8
After ~ 4 ks of photon accumulation in EPIC, a source was detected ~ 1 arcmin off the reported coordinates. This source was located so close to the edge of CCD#7 in pn that part of the PSF was falling in the inter-CCD gap. Therefore, the telescope was re-pointed to place this source at the nominal boresight location.
The new boresight coordinates were set to RA = 11:15:18.0 and Dec = -21:56:53.0
Important note:
The re-pointing was performed without stopping the integration in EPIC and RGS.
As a result, GRB011211 is located in two different EPIC/RGS detector positions which affects the background
subtraction and detector response.
Users are informed that the re-pointing slew started at 2001-12-12T08:31:16 and finished at 2001-12-12T08:40:50.
Data
Preview of pn images
Full pn image in sky (left) and detector (right) coordinates.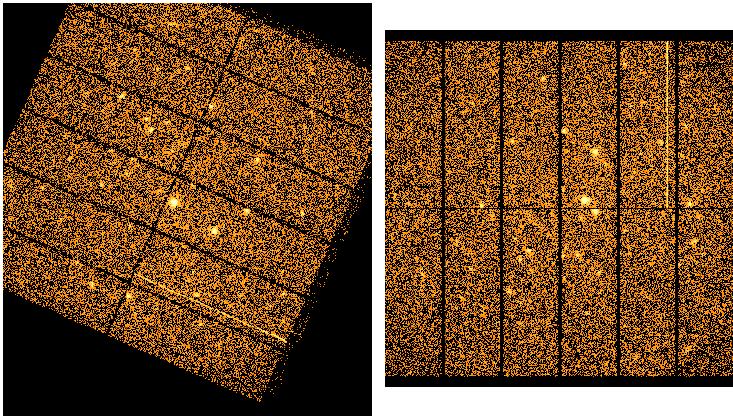 Expanded view (in detector coordinates) around GRB011211 before (left) and after (right) re-pointing.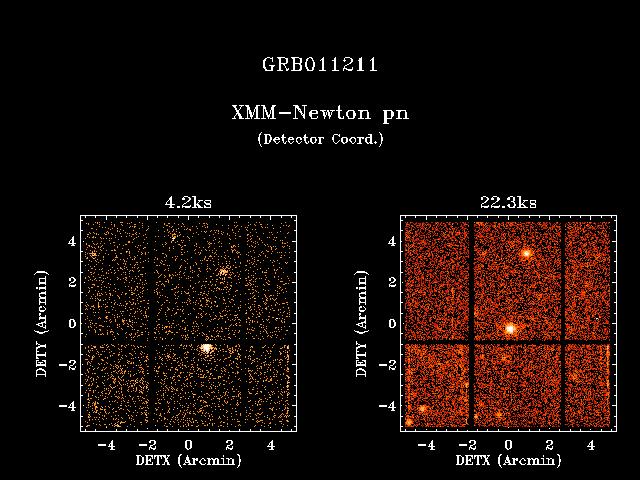 Quick Look Analysis
The total count rate from GRB011211 decreased during the XMM-Newton observation by a factor of 2-3.

The lightcurve observed with pn: the data points before and after the re-pointing are coloured in black and red, respectively. Only events within 10 arcsec of the source peak have been counted for.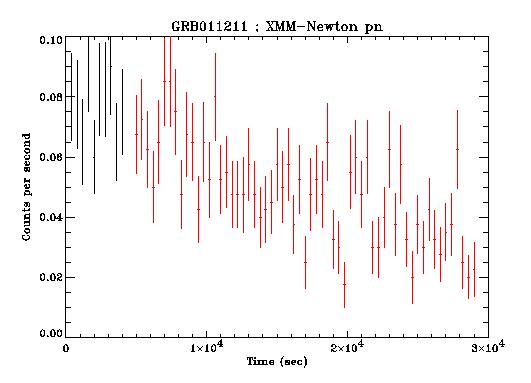 The lightcurves as seen in MOS-1 and MOS-2: only events within 9.5 arcsec of the source peak have been counted for.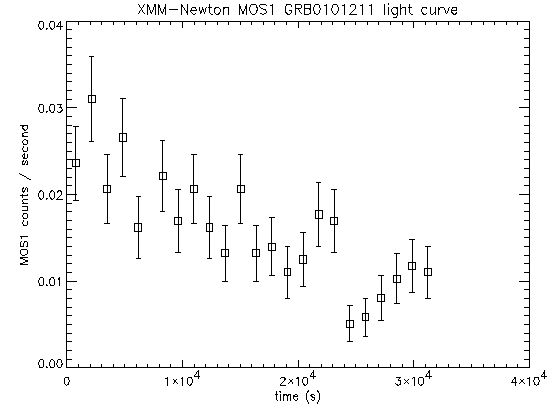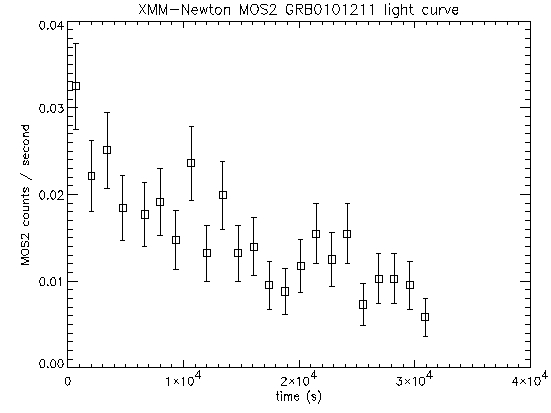 A very preliminary analysis of the pn-spectrum points to a very low absorbing column density. The pn-spectrum after the re-pointing is shown in the following figure.