XMM-Newton Observations of GRB020321
Events
On March 21, 2002, the XMM-Newton SOC received a Target of Opportunity notification after the BeppoSAX detection of GRB020321.
This GRB was immediately approved by the XMM-Newton SOC for ToO observation. The observation was started on 2002-03-21T14:38:14Z under ObsId=0008820401 during XMM-Newton's revolution number 0418 .
The pointing coordinates were RA = 16:11:02.4 and Dec = -83:42:00 (Gandolfi et al.)
The images and light curves presented here are based on a preliminary processing without the re-constituted XMM-Newton Attitude History File. Therefore, the positions quoted are subject to a nominal uncertainty of 4 arcsec.
Data
Preview of XMM-Newton images
Full pn image in sky coordinates.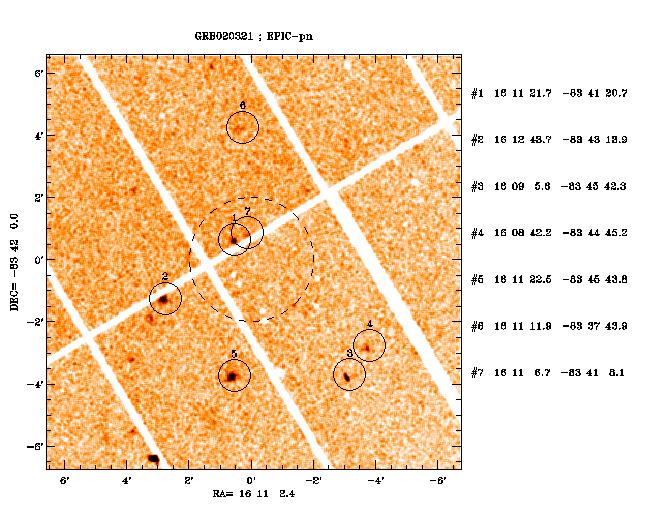 There is no clear GRB020321 X-rays afterglow candidate within the sources in EPIC-pn, neither from their location nor from their variability.
Net count rates for several EPIC-pn sources.