XMM-Newton Observations of RS Ophiuchi
Events
The Recurrent Novae RS Ophiuchi was discovered in outburst on February 12, 2006 (Narumi et al., IAUC 8671) at visual magnitude 4.5. This is the sixth recorded outburst, with the previous ones occurring in 1898, 1933, 1958, 1967 and 1985.
During the 2006 outburst RS Ophiuchi has been observed by SWIFT (Bode et al., IAUC 8675) and XTE (Sokoloski et al., ATEL 737, 741 and 747)
This target was approved by the XMM-Newton Project Scientist for a ToO observation, that started on February 26 2006 at 16:51:47 UT under ObsId 04101801 during XMM-Newton's revolution number 1139
EPIC pn and MOS2 were operated in Timing mode with the THIN filter and MOS1 in Small Window mode with the MEDIUM filter
Data
The Observation Data File (ODF) will be available here.
The Pipeline Products will be also available at this address.
Preview of XMM-Newton spectra
Images of the RGS spectra showing up to the third dispersion order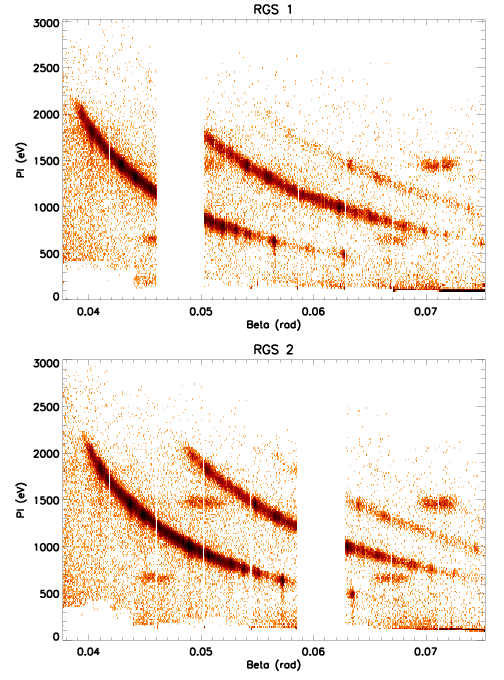 RGS fluxed spectrum of RS Ophiuchi
The RGS first order spectrum of RS Oph showed a high countrate of approximately 2 counts/sec. The decrease of the flux at long wavelengths is consistent with the interstellar Hydrogen column density, 4x1021 cm-2.