Rosetta SWT #42

Gottingen, Germany



Rosetta Science meeting and SWT #42
Monday 14 September to Friday 18 September, 2015
Logistics
This Rosetta Science, Operations and SWT meeting will be hosted in Gottingen, Germany.
As with previous meetings, we will begin the week with a science discussion meeting, then move towards more operational discussions for the rest of the week.
MEETING SCHEDULE DRAFT

SCIENCE MEETING SCHEDULE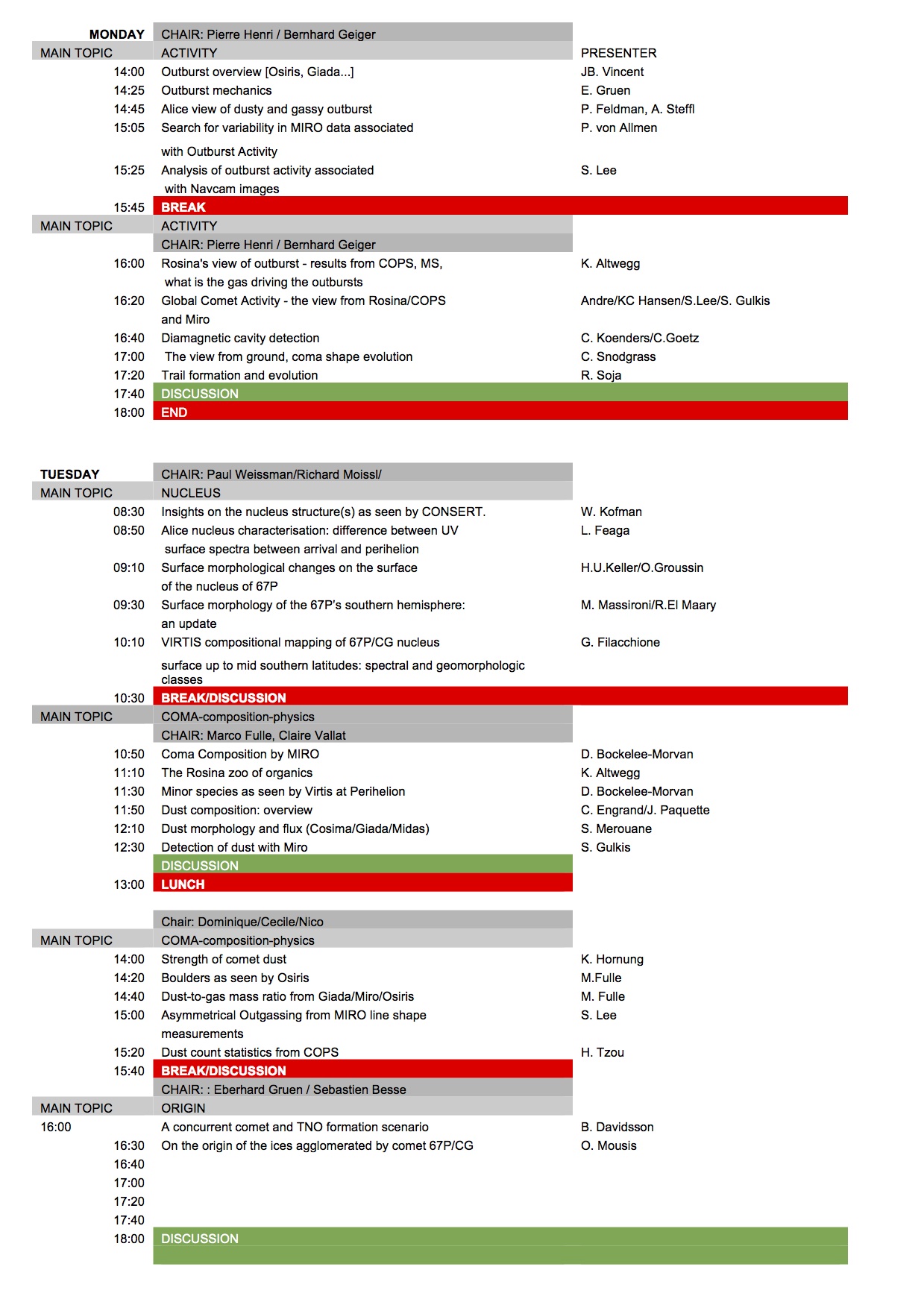 SWT Schedule
NOTE CHANGE IN PLANNING TELECONF TIME TO 16:30 on Thursday!!!!!

Wednesday 16 September
Special SOWG session on LTP8 and extension planning

14:00 Summary of STR group findings – Eberhard, BG etc
14:45 Extension goals and high level science requirements
15:30 Coffee
16:00 working towards a plan for LTP8 based on extension goals - all
16:50 LTP 8 Conclusion
17:00 - SGS planning workshop on VSTP process at MTP/STP level PART 1.
18:00 - end

Thursday 17 September

09:30 Welcome and introduction
- New PIs
- Feature naming
09:35 Actions from last meetings
10:00 Mission Status – Patrick Martin
10:10 MOC overview RMOC - Sylvain Lodiot
- including preliminary EoM plans
10:30 COFFEE
11:00 SGS overview (including uplink) – MK
11:30 SGS downlink status (including Archiving status and DAWG summary)- LO + MB
12:00 Lander update – Lander Lead Scientists
12:30 LUNCH
14:00 PI instrument reports
16:30 Coffee + planning teleconference
17:00 SGS planning workshop on VSTP process at MTP/STP level PART 2.
18:00 END

Friday 18 September

09:30 NASA update – A. Chmielewski
10:00 Ground Based –C. Snodgrass
10:30 Coffee
11:00 WG-X – T Gombosi
11:30 Summary of SOWG discussion
12:00 Feedback from Science workshop
13:00 Publications, Future meetings etc
13:15 AOB
13:30 Close