Research Fellowships in Space Science
The full application website will become avaliable mid-August to early September 2019. If you are interested in applying, please check the links below.
Next application deadline
1 October 2019
If you are interested in the application process in general, please read the summary below for information on how to apply.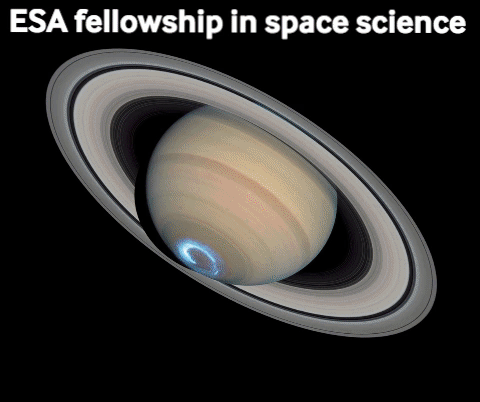 General information
The ESA Postdoctoral Research Fellowship Programme is aimed at providing scientists in the early stages of their career, holding a PhD or the equivalent degree, with the means to perform research in space science. The programme is open to suitably qualified applicants who have completed their PhD (or equivalent) or will have completed it by the start of the fellowship (autumn 2019). Preference will be given to applications submitted by candidates within five years of receiving their PhD and nationals from under-represented states at ESA.
About 8 positions shall be offered for this call, shared between ESAC (Spain) and ESTEC (Netherlands)
Short ESA video clips about the ESA research fellowship programme:
Who can apply?
The Research Fellow Programme is open to nationals of the following states: Austria, Belgium, the Czech Republic, Denmark, Estonia, Finland, France, Germany, Greece, Hungary, Ireland, Italy, Luxembourg, the Netherlands, Norway, Poland, Portugal, Romania, Spain, Sweden, Switzerland, the United Kingdom, and Canada and Slovenia as associated member state as well as Bulgaria, Cyprus, Latvia, Slovakia as European Cooperating States (ECS).
ESA is an equal opportunity employer, committed to achieving diversity within the workforce and creating an inclusive working environment. Applications from women are encouraged.
According to the ESA Convention the recruitment must take into account an adequate distribution of posts among nationals of the ESA Member States. When short-listing for an interview, priority will first be given to candidates from under-represented Member States. (http://esamultimedia.esa.int/docs/careers/NationalityTargets.pdf)
Appointments for an ESA research fellowship are for two years, with a possible third year extension. The fellowship in space science is tenable at the European Space Research and Technology Centre (ESTEC) in Noordwijk, the Netherlands, or at the European Space Astronomy Centre (ESAC) in Villafranca del Castillo near Madrid, Spain.
The Fellowship Programme does not currently grant fellowships in institutions outside of ESA.
Research Programmes
As part of their mandate, the Scientific Support Office at ESTEC and the Science Operations Department at ESAC conduct research programmes covering many areas of space science. These research activities are coordinated by the ESA Science Faculty, a body made up by the scientists in both places. Research Fellows are encouraged to participate in these programmes, which are led by the scientific staff (with the appropriate engineering, technical and administrative support). Research Fellows are in principle fully dedicated to scientific research and have no functional duties. However they may choose to spend up to 20% of their time on scientific activities in support of an ESA mission. Additionally they are encouraged to take an active part in the scientific life of the establishments.
The research projects proposed by applicants for an ESA Fellowship should be related to ESA's scientific missions, to the space research programmes of the ESA member states or to the scientific activities of the ESA Science Faculty. A brief summary of the research activities carried out by Faculty members can be found :
RF candidates should consult these pages to identify which of the two establishments offers the most relevant environment for the candidate's research proposal and to identify one or more staff members who could act as mentors. While certain research programmes can be pursued at both centres, in most cases the location of the mentor defines where a fellowship can be held.
Candidates are strongly encouraged to contact the identified staff members to discuss their research proposals before submitting an application.
How to apply
Fill in the online application form attaching to it (if you apply for ESAC, use this link, if you apply for ESTEC, use this link) uploading, your CV, your motivation letter and your research proposal. Your research proposal must clearly state:
Section 1: Title of Research Project (provide a short title for your research project)

Please make sure that you identify a staff member as a mentor. The list of possible mentors at ESAC is here and possible mentors from ESTEC here.

Section 2: Purpose of Fellowship at ESA (in about 250 words, give a very brief summary of your research programme and explain why it is relevant to ESA's science activities. In other words, why is it important that you do this at ESA?)
Section 3: Current and past research and future plans for the fellowship (use up to about 1500 words and a couple of figures, plus any references, to provide a detailed description of your current and proposed research)
Section 4: List of publications (list separately refereed and unrefereed papers, give authors, title and bibliographic reference but no abstract, unless the paper is unpublished)
For your research proposal, please use this Word template or this LaTeX template.
Take into account that applications wll be reviewed by a panel of space scientists who may not all be expert in your area. The evaluation criteria will be the scientific value of the proposal, the value for ESA, the realism and the productivity of the applicant.
Candidates must also arrange for up to three letters of reference to be sent by e-mail, before the deadline, to temp.htr@esa.int. The letters must be sent by the referees themselves. The candidate's name must be mentioned in the subject of the email.
Applications satisfying the general conditions for eligibility, to be submitted by 1 October 2018, will be evaluated and successful applicants will be invited for an interview.
Interested candidates are highly encouraged to visit the ESA website: www.esa.int.
What happens after the application has been received?
Enquiries on the scientific aspects of the programme can be sent at any time to the fellowship coordinators.
Within six to eight weeks of the application deadline, candidates selected for an interview will be notified. Interviews will take place within two months. Besides an interview, candidates are asked to give a short talk (15 min + 5 min for questions) to present their current and proposed research programme at a jamboree open to the whole science faculty.
During their visit, normally lasting two days, candidates are encouraged to interact with other fellows and staff members, to familiarise themselves with the ESA science faculty. Successful candidates will be notified by early February and normally fellowships commence in the autumn (September/October).
Note that it is required to have obtained a PhD before starting the fellowship.
Research budget, conferences
Research expenses for ESA Research Fellows, such as publication charges, observing trips and attendance to conferences, are covered by the research budget of the Science Support office and the Science Operations department, respectively. Fellows can usually attend three international conferences each year, provided that they have important new results to present. Participation at observing campaigns or research visits can be funded.
Research Fellows have also access to the Science Visitor Programme and can invite external collaborators to spend time at ESTEC or ESAC, funded by the ESA Faculty, to work with them.
Research Fellows at ESAC can also mentor undergraduate or Master's student trainees. See ESAC traineeship programme.
Fellows are encouraged to join existing research activities or start new ones in collaboration with staff members. Activities that will require substantial amount of additional funding (e.g. flight hardware contrbutions) undergo assessment by the science faculty and will be decided case-by-case.
Financial conditions and benefits
The salary of ESA fellows falls within a pre-determined range and varies depending on qualifications and experience. Average monthly net salaries (tax free) are around € 3000. Fellows may be entitled to an expatriation allowance and/or to an installation allowance if they meet the conditions of entitlement. Removal expenses are not reimbursed. Depending on their place of recruitment, fellows may be reimbursed travel expenses in economy class (when travelling by air) or in first class (when travelling by train) to their duty station for themselves and, if applicable, for their spouse and children at the beginning and end of their assignment. Fellows are enrolled in the ESA's Social Security Scheme which covers medical expenses, invalidity and death benefits. A monthly deduction covers these short-term and long-term risks.
Contact
To contact any person by email, please use the address depending on the location.
If the person resides at ESTEC, use the form first.last@cosmos.esa.int
If the person resides at ESAC, use the form first.last@sciops.esa.int
or hover the mouse over the name to get the structure of the address.