The 11th Science Workshop (SSW) will take place from the afternoon of Nov 5 until the afternoon of Nov 7 2018 in the van der Valk hotel in Akersloot, which lies some 30 km north of Amsterdam, The Netherlands.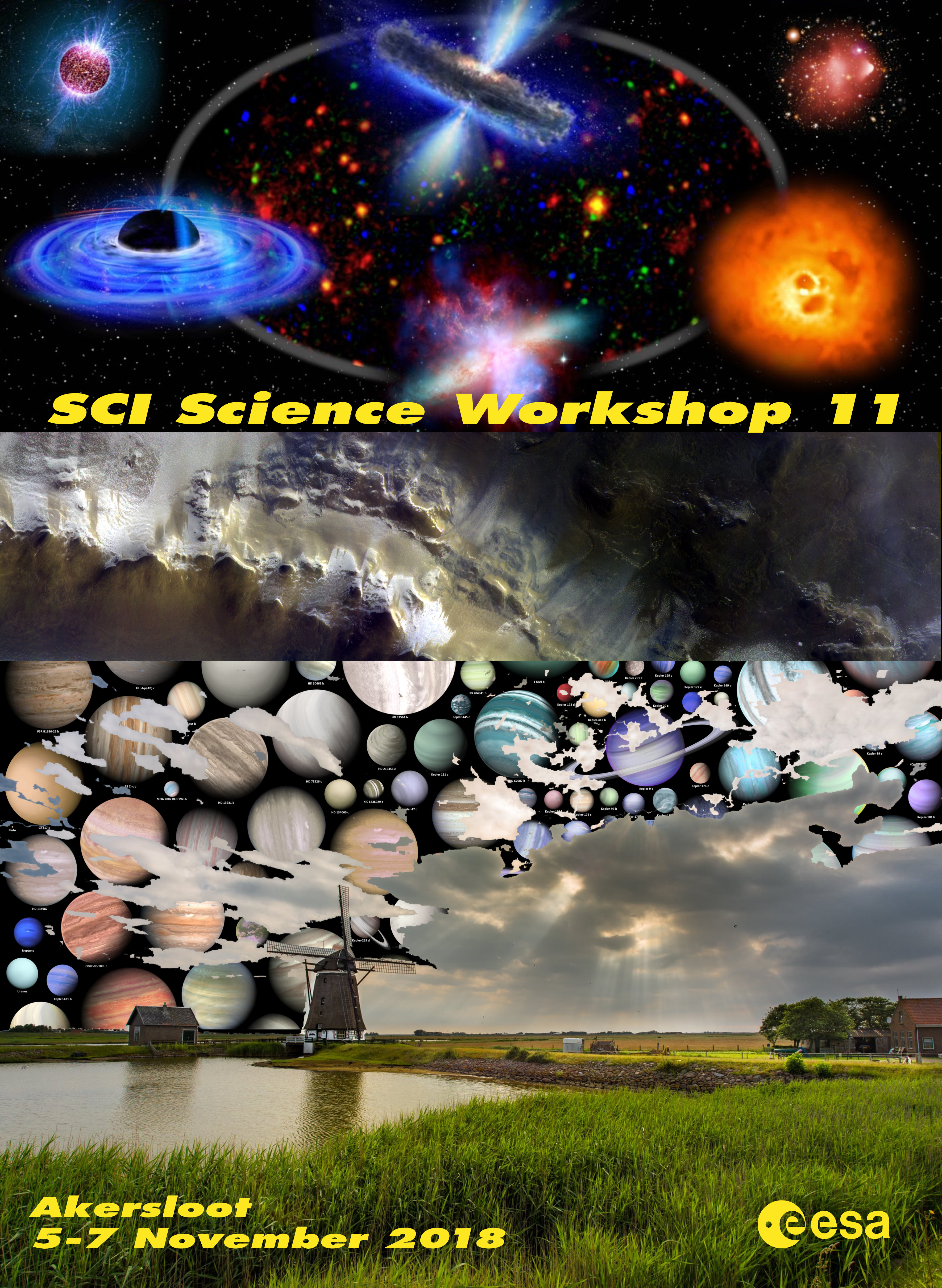 The main purpose of this workshop is to present and discuss the science research that scientists in SCI (especially SCI-S and SCI-O) are doing. It is an opportunity to "stretch" our abilities by trying to understand topics which we do not normally follow. It allows us to broaden our skill set and foster inter-site as well as inter-project cooperation in research activities. As per the experience gained in the previous few such meetings, this year's is also being arranged off-site and on a residential basis as this additionally gives us the opportunity to get to know our colleagues better.
This event is co-organised by SCI-S, SCI-O, the ESTEC Faculty and the ESAC Faculty.
Organising Committee: Alba Alcol, Kate Isaak, Pierre Ferruit, Felix Fürst, Anik de Groof, Peter Kretschmar, Michael Küppers, Matt Taylor, Dimitriy Titov, Elliot Sefton-Nash, Arvind Parmar, Mylene Riemens, and Jan Tauber.

The Organising Committee endorses the following Code of Conduct and asks all participants to read it and adopt it.
Code of conduct
We value the participation of everyone at the SSW and want all attendees to have an enjoyable and fulfilling experience. Accordingly, all attendees are expected to show respect and courtesy to other attendees and staff.

As such the SSW will be a harassment-free environment for everyone, regardless of gender, sexual orientation, disability, physical appearance, body size, race, nationality, religion. We do not tolerate harassment of attendees in any form.

• Lecturers give their time freely, many have travelled a considerable distance, some are very distinguished and some are early career scientists but all deserve a fair and encouraging hearing. Please try to be on time for the start of a session and, as a lecturer, keep strictly to the time allotted for your presentation.

• Harassment includes offensive verbal comments related to gender, sexual orientation, disability, physical appearance, body size, race, religion, sexual images in public spaces, deliberate intimidation, stalking, following, harassing photography or recording, sustained disruption of talks or other events, inappropriate physical contact, and unwelcome sexual attention.

• All communication given by lecturers, organisers and attendees should be appropriate for a professional audience including people of many different backgrounds. Sexual language, jokes and imagery is not appropriate for any event.

• Be kind to others. Do not insult or put down other attendees.

• Respect the venue's staff.

• Behave professionally. Remember that harassment and sexist, racist, or exclusionary jokes are not appropriate.

• Follow ESA's Guiding Principles and ESA's Charter of Values, in particular Section 2 ("It is unacceptable to make hurtful comments or tasteless jokes about colleagues or groups represented within the Agency.", Sect. 2.3.2).

Participants asked to stop any harassing behaviour are expected to comply immediately. Reports of harassment and unprofessional behaviour to the SOC or LOC will be handled with the appropriate urgency and care.

Thank you for helping make this a welcoming, respectful, and interesting meeting for all.

Clarification: The Organising Committee has no reason to believe that any participants of this SSW would not honor this code, but it is useful - and has become customary at other meetings - to make it visible to all. This Code of Conduct is based on the one used at RAS meetings.
Deadlines:
Registration: 1 September - 2 October
Abstract submission: 1 September - 2 October
Programme will be published by 19 October
Contact: for issues related to the programme of SSW11, please contact Jan Tauber; for issues related to the practical organisation, please contact Mylene Riemens (ESTEC) or Alba Alcol (ESAC).