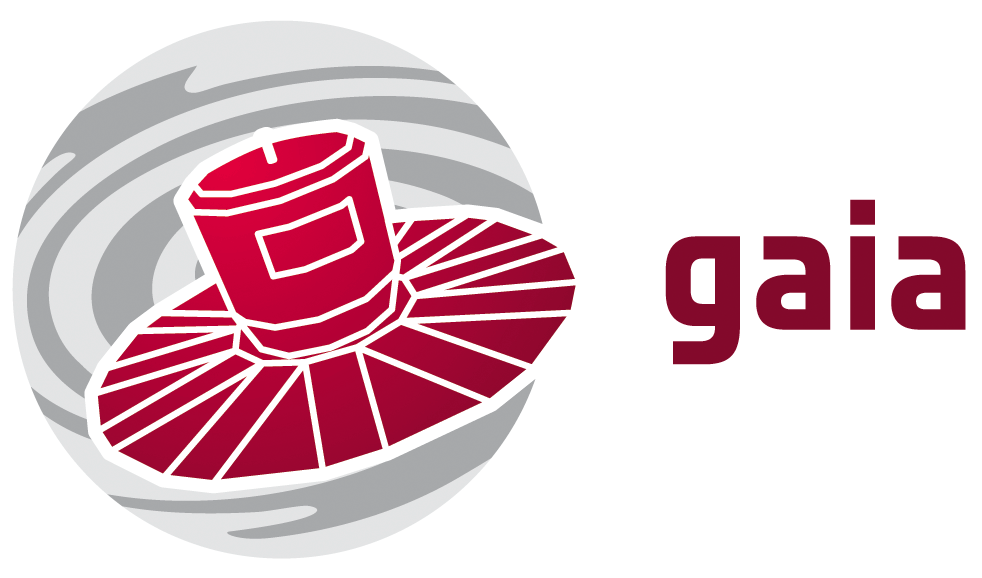 27 January - 9 February 2019
49th Saas-Fee course: The Milky Way in the Gaia Era
(Switzerland)
---
25 - 29 March 2019
Santa Barbara Gaia Sprint
(Santa Barbara, USA)
---
8 - 12 April 2019
53rd ESLAB Symposium: the Gaia universe
(ESTEC, The Netherlands)
---
View Conference / Event Calendar
Science with 1 billion objects in three dimensions
Welcome to ESA's website for the Gaia Scientific Community
News & Highlights
21/01/2019 Gaia newsletter
An email was sent out recently to Gaia newsletter subscribers with instructions on how to keep receiving the Gaia newsletter. These instructions are explained on this page in more detail, with some answers to frequently asked questions.
08/01/2019 update: Gaia Archive is fully accessible now
There were some issues when accessing the Gaia Archive earlier today, but these have been fixed now.
29/12/2018 Movement of tiny galaxies surrounding the Milky Way
New animation shows the movement of tiny galaxies surrounding the Milky Way as described in a recent story. An interactive version is available here.
21/12/2018 The Gaia Mission Holiday song
We wish you all "Happy Holidays!" Want to know more on how we created this song? Read through today's story on the creation.
19/12/2018 Reward for Gaia and Anthony Brown
Our Gaia DPAC Chair Anthony Brown is recognised by Nature as one of the 10 people who mattered in 2018. This is a special recognition for Anthony, who keeps the Consortium moving forward to get the data from our Gaia mission out to the community. Read the article here
19/12/2018 Gaia's 5th launch anniversary
Today marks the 5th anniversary of the launch of Gaia into space. Relive this moment by watching the launch event at ESOC from 19 December 2013.
17/12/2018 Video release: the universe of Gaia
Gaia was launched 19 December 2013 and has been scanning the sky ever since. Our second data release, published this April, provided scientists with an extraordinary data set to investigate the formation and evolution history of our Milky Way. Hundreds of scientific studies were performed since, with new papers coming out almost every day.
Video credits: ESA/CNES/Arianespace; ESA/Gaia/DPAC; Gaia Sky / S. Jordan / T. Sagristà; Koppelman, Villalobos and Helmi; Marchetti et al. 2018; NASA/ESA/Hubble; ESO, M. Kornmesser, L. Calçada
06/12/2018 Password reset required for all Gaia users from 6 December 2018 onwards.
From today forward, you will need to reset your password to be able to continue using Gaia services. If you experience problems accessing the Gaia Archive, Gaia Cosmos or Gaia DPAC services, please go to the Gaia Cosmos portal and follow the password reset process. Go to the top right corner and click on the sign in button. Then follow the path "Forgot your password?". You will receive a link at your email connected to your Gaia Cosmos account to reset your password. In case you are experiencing problems, please contact the Gaia Helpdesk.
Soon we will send out an extra message about the full procedure to follow.
Please be aware that access to SVN is synchronised with a delay of about 15 minutes. After the password reset, allow for some time before accessing SVN.
28/11/2018 Opening for a Gaia DPAC postdoc position at Leiden Observatory
The postdoc position will focus on crowded field (spectro-)photometric data processing for the Gaia mission. Specifically, the work will result in algorithms and code, to be integrated into the DPAC processing pipeline, for the combination of repeated observations of blended sources in order to disentangle the overlapping Blue and Red Photometer prism spectra. The work will be guided by insights gained from a limited set of full frame images of crowded fields obtained with Gaia's Skymapper CCDs through the Service Interface Function (SIF). More information here.
14/11/2018 Gaia mission extension approved
Today the ESA Science Programme Committee (SPC) confirmed the Gaia mission extension for mid-2019 to end of 2020 and has given an indicative extension for up to end of 2022. More information can be found here.
More news
Data Releases

Data Release 2

Tools

---

---

---

---