13 - 18 October 2019
The RR Lyrae and Cepheid Conference 2019: Frontiers of Classical Pulsators - Theory and Observations
(New Mexico, USA)
---
14 - 18 October 2019
The Milky Way 2019
(Yichang, Ubei, China)
---
21 - 25 October 2019
IAU Symposium 357: White Dwarfs as probes of fundamental physics and traces of planetary, stellar & galacitc evolution
(Hawaii, USA)
---
View Conference / Event Calendar
Science with 1 billion objects in three dimensions
Welcome to ESA's website for the Gaia Scientific Community
News & Highlights
15/10/2019 Some DPAC services are down [Update: all is back up]
As of noon today, we noticed that some of our Gaia DPAC services are down. We are working towards solving this issue and hope to get things up as soon as possible. Update 14:00 CEST: The network at ESAC was down for about an hour, but has now been restored. All services are back to normal.
26/09/2019 Update to the Gaia data release scenario
Data processing toward Gaia (E)DR3 continues to progress within the announced schedule. However, to ensure sufficient quality of the quasars and extended objects results, an additional processing run has to be scheduled moving their outcome from Gaia EDR3 to Gaia DR3. Another modification concerns a new data product. A pencil beam survey with (integrated) epoch photometry of all sources (variable and non-variable) will be added to Gaia DR3. The selected field is centred on the Andromeda Galaxy. The cone with 5.5 degree radius contains in total about 1 million sources both in M31 and the Milky Way. In order not to impact the release schedule, only a limited amount of explicit validation will be done on the pencil beam epoch photometry.
28/08/2019 Gaia untangles the starry strings of the Milky Way
A new story was published today discussing science findings from Gaia's second data release: "Gaia untangles the starry strings of the Milky Way".
22/08/2019 Gaia DR2 known issue
An update to the Gaia DR2 known issues page became available today, discussing systematic effects in the Gaia DR2 parallaxes for very bright stars.
19/08/2019 Survey on the ESA Astronomy Science Archives
The ESA Astronomy Science Archives asks you to fill out a short anonymous survey in an effort to ensure that the Astronomy community are provided with the best possible services. The survey includes questions on the archives of EXOSAT, Gaia, Herschel, HST, ISO, Lisa Pathfinder, Planck, and XMM-Newton, as well as questions on the ESASky tool. The survey should not take more than a few minutes of your time and will help our teams at the ESAC Science Data Center to improve their services to you.
The survey remains open until mid September and results will be summarised online at the ESDC website.
18/07/2019 Gaia newsletter issue 7
The new Gaia newsletter is out. It can also be found here.
17/07/2019 Gaia moves into mission extension
Yesterday a major manoeuvre took place to ensure Gaia would keep out of Earth's shadow for the coming years. This manoeuvre, called the Whitehead Eclipse Avoidance Manoeuvre, also marks the transition of the Gaia mission into its first mission extension. Congratulations to the Gaia team at ESOC for the great achievement yesterday!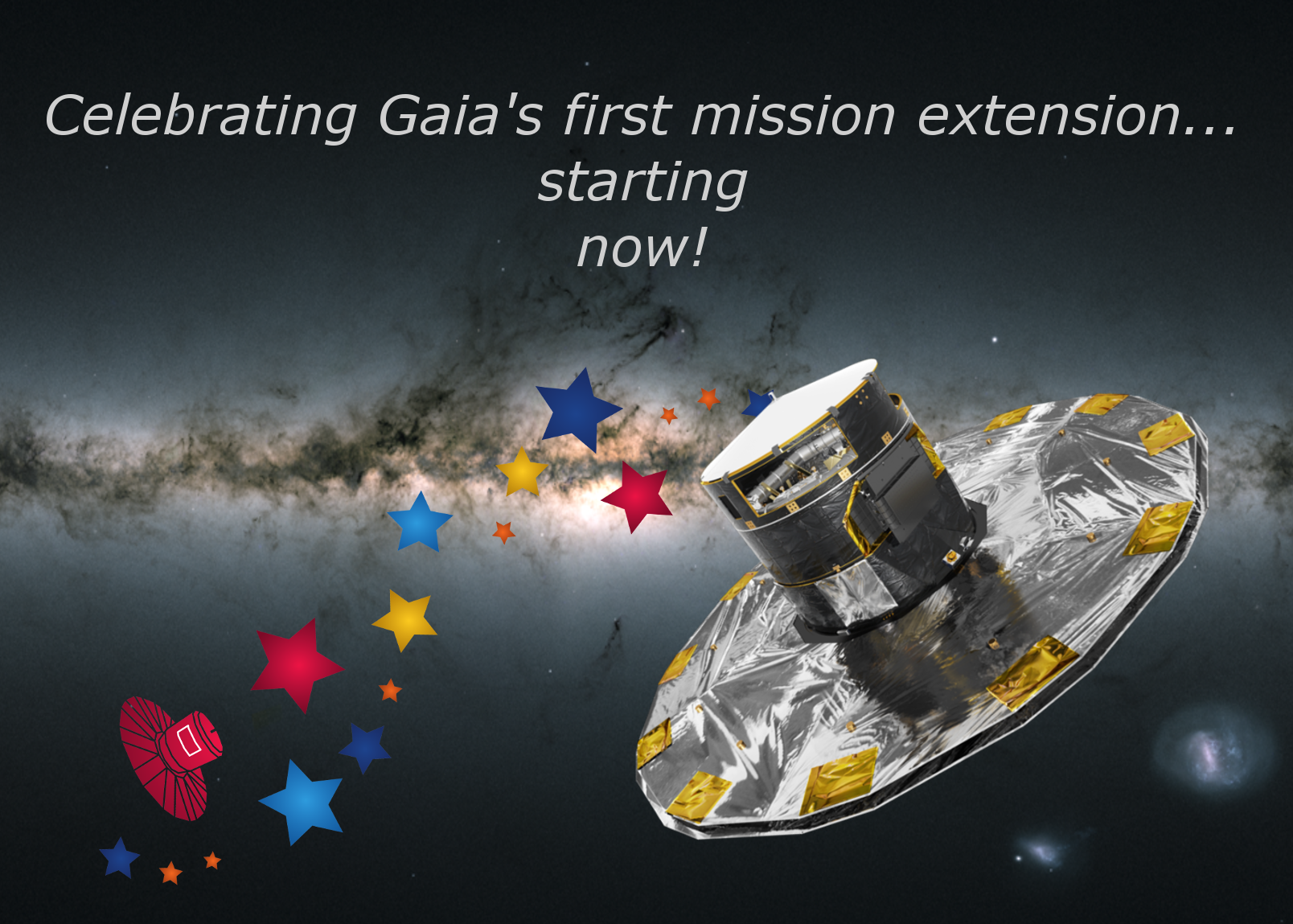 More news
Data Releases

Data Release 2

---

---

---

---

---