27 - 31 May 2019
Star Clusters from the Milky Way to the Early Universe, IAU Symposium 351 & MODEST-19
(Bologna, Italy)
---
3 - 7 June 2019
Space Astrometry for Astrophysics
(L'Aquila, Italy)
---
18 - 21 June 2019
Gaia's view of Pre-Main Sequence Evolution: Linking the T Tauri and Herbig Ae/Be Stars
(Leeds, UK)
---
View Conference / Event Calendar
Science with 1 billion objects in three dimensions
Welcome to ESA's website for the Gaia Scientific Community
News & Highlights
25/04/2019 Geographic contributions to DPAC
Today marks the first birthday of our Gaia Data Release 2, a data release that truly changed our view of the Milky Way. We'd like to celebrate this day with a special thank you to all the people involved in all stages of Gaia's life: from initial proposal, to gathering interest, to design and building and actual operating of the spacecraft. From getting the data down, checking the health of the data, to processing the raw data into a scientifically usable format and then validating to make sure the data is truly that great!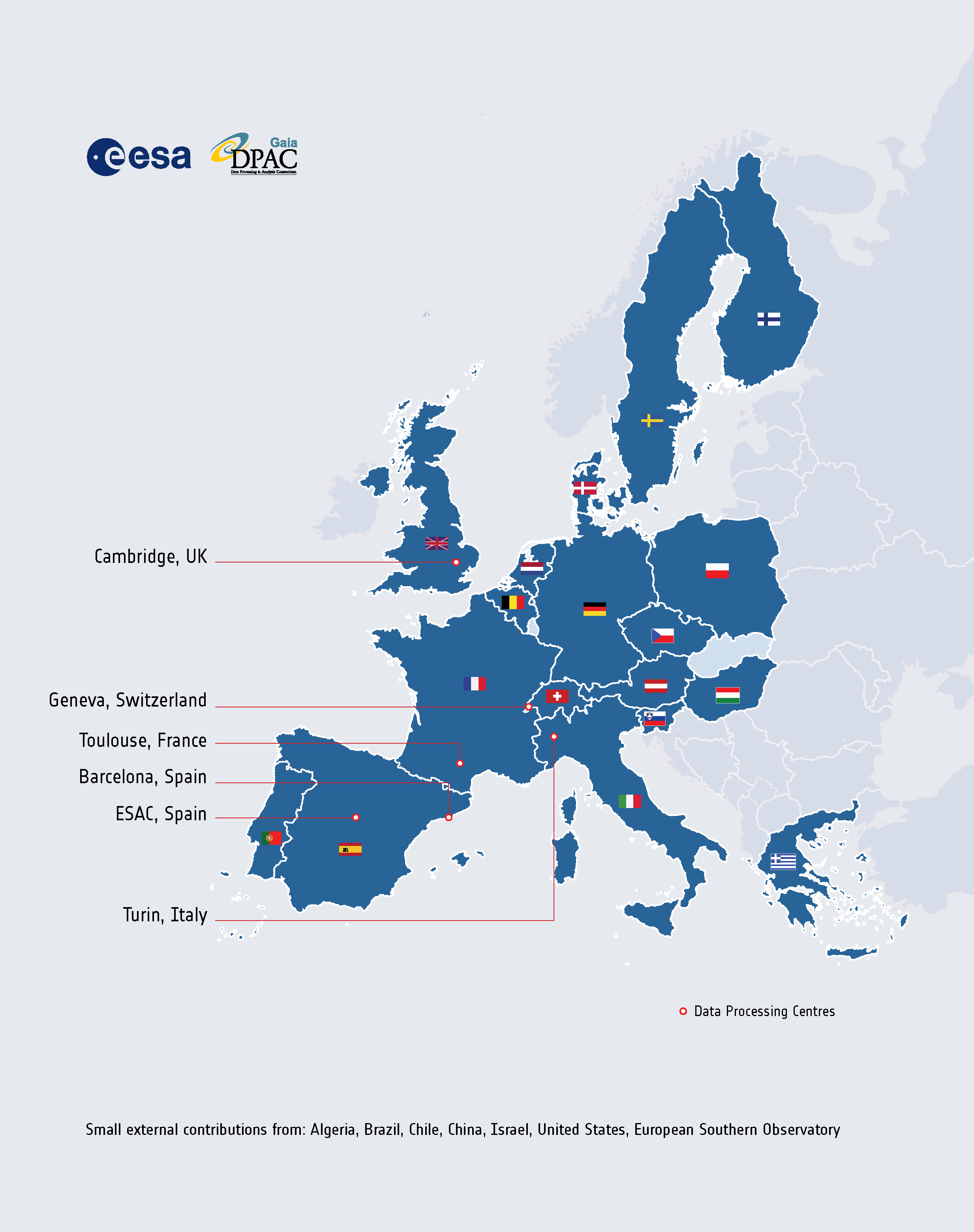 In the image released today you can see the geographic contributions to the Gaia Data Processing and Analysis Consortium. It shows the countries where the people in DPAC are working. Read further on Gaia DPAC and its contribution to Gaia Data Release 2 in our newest story available here.
18/04/2019 Summary of the 53rd ESLAB symposium
From 8-12 April 2019, the 53rd ESLAB symposium took place at ESTEC, The Netherlands. A summary of the results shown at the symposium can be found here.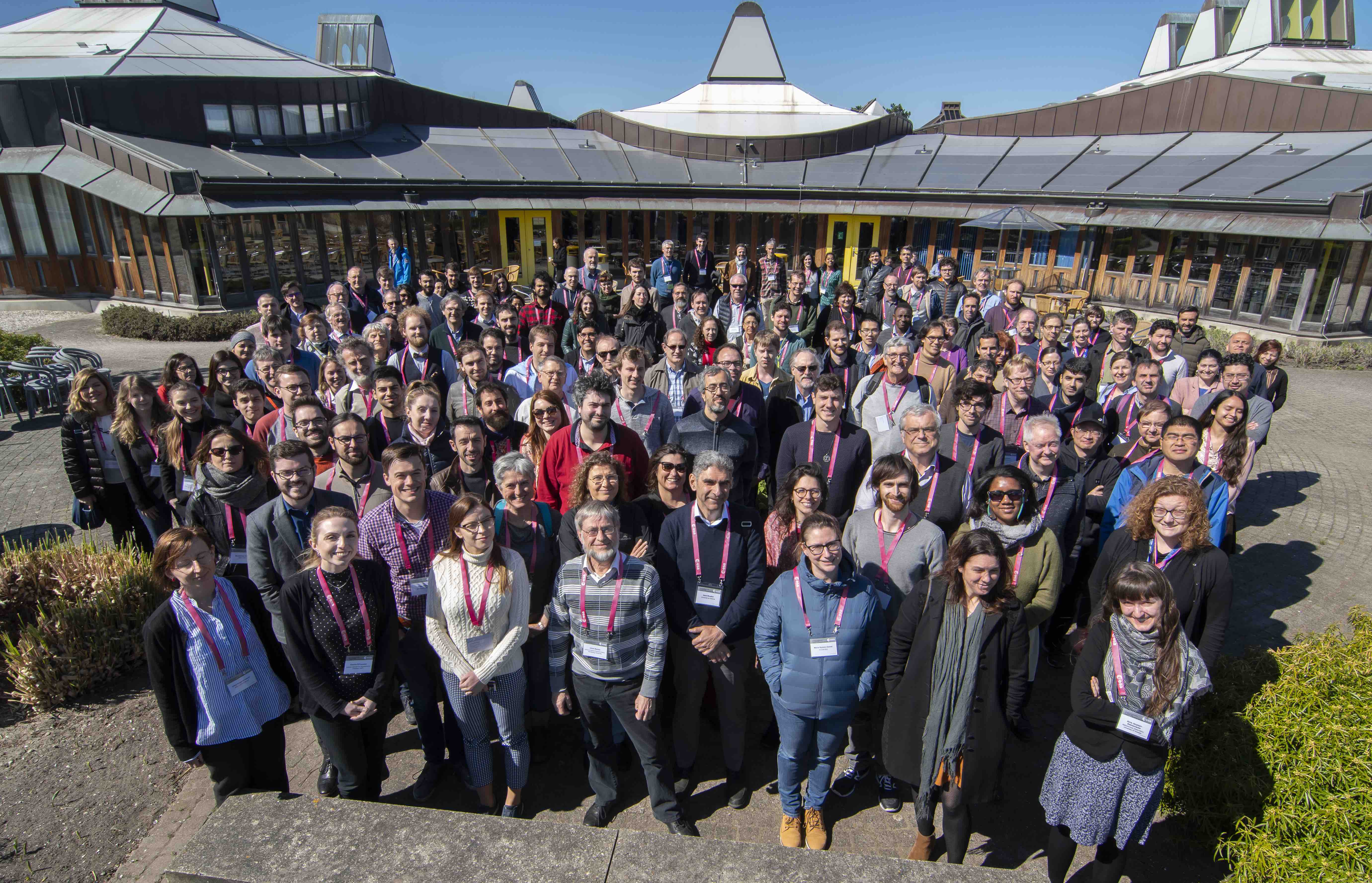 07/04/2019 Gaia newsletter
The 6th issue of the Gaia newsletter just came out. Interested in the contents? Read through the newsletter here. Information on how to subscribe or unsubscribe to the Gaia newsletter can be found here.
07/04/2019 Rethinking everything we know about star clusters
Recently an overview article appeared on ESA Science & Technology discussing the role of Gaia in our knowledge of star clusters. By studying stellar clusters, Gaia reveals much about the formation and evolution of stars in our surroundings. Read the full article here.
22/02/2019 Update to the Gaia DR2 known issues
Today an update to the Gaia DR2 known issues was published discussing Gaia DR2 photometry. We advise you to read through this topic if you use Gaia DR2 photometry.
29/01/2019 Gaia Data Release 3 split into two parts
The Gaia data processing toward Gaia DR3 is progressing at full speed. Although the schedule has stabilised, there are several uncertainties as many elements of the pipelines will see the real data in an operational environment for the first time. Taking the uncertainties into account brought the schedule of the next release toward the end of the earlier announced period of the first half of 2021.
To mitigate the impact on research, the Gaia DR3 will be split into two releases. This way, data that is ready earlier, will be released earlier. The early release, Gaia EDR3, will take place in Q3 of 2020. Gaia DR3 is anticipated to take place during the second half of 2021. Read through the full announcement here.
06/12/2018 Password reset required for all Gaia users from 6 December 2018 onwards.
More details can be found here.
More news
Data Releases

Data Release 2

---

---

---

---

---