18 - 21 June 2019
Gaia's view of Pre-Main Sequence Evolution: Linking the T Tauri and Herbig Ae/Be Stars
(Leeds, UK)
---
24 - 28 June 2019
EWASS 2019
(Lyon, France)
---
19 - 23 August 2019
Stars and their variability as observed from space
(Vienna, Austria)
---
View Conference / Event Calendar
Science with 1 billion objects in three dimensions
Welcome to ESA's website for the Gaia Scientific Community
News & Highlights
19/06/2019 Downtime of some DPAC services and some public services
On Tuesday morning 25 June between 08:00 and 09:00 CEST, some DPAC services will be down to allow for some maintenance. The downtime will affect the following Gaia DPAC services: All types of SVN access, Nexus, Jenkins, Sonar, Gaia Parameter Database, MDBExplorer, MDBTimeline, MDBDictionaryTool and Decoders as well as the public services: Gaia Observation Forecast Tool and mission status numbers.
23/05/2019 Lorenzoni Prize 2019 for Gaia DPAC member Eloisa Poggio
The Lorenzoni Prize is an award instituted by the Societa' Astronomica Italiana (SAIt) with the sponsorship of "Officina Stellare" (an Italian manufacturing company in the field of design and construction of telescopes and precision opto-mechanical instrumentation for professional applications for scientific research, aerospace and defense) to reward the best scientific article published by a young researcher in the last 3 years.
This year the Lorenzoni Prize was won by Eloisa Poggio, a young researcher that has published the paper "The Galactic warp revealed by Gaia DR2 kinematics". This paper using Gaia DR2 data reveals that the warp of the Milky Way is a gravitationally induced phenomenon. She was awarded with her prize during the SAIt national meeting that was held in Rome on 16 May 2019.
13/05/2019 Gaia Archive version 2.6
Today a new version of the Gaia Archive is rolled out. A temporary downtime of the Gaia Archive is expected between 10:30 and 12:30 CEST, after which you will be able to enjoy the upgraded performance of our Gaia Archive when retrieving your Gaia data!
25/04/2019 Geographic contributions to DPAC
Today marks the first birthday of our Gaia Data Release 2, a data release that truly changed our view of the Milky Way. We'd like to celebrate this day with a special thank you to all the people involved in all stages of Gaia's life: from initial proposal, to gathering interest, to design and building and actual operating of the spacecraft. From getting the data down, checking the health of the data, to processing the raw data into a scientifically usable format and then validating to make sure the data is truly that great!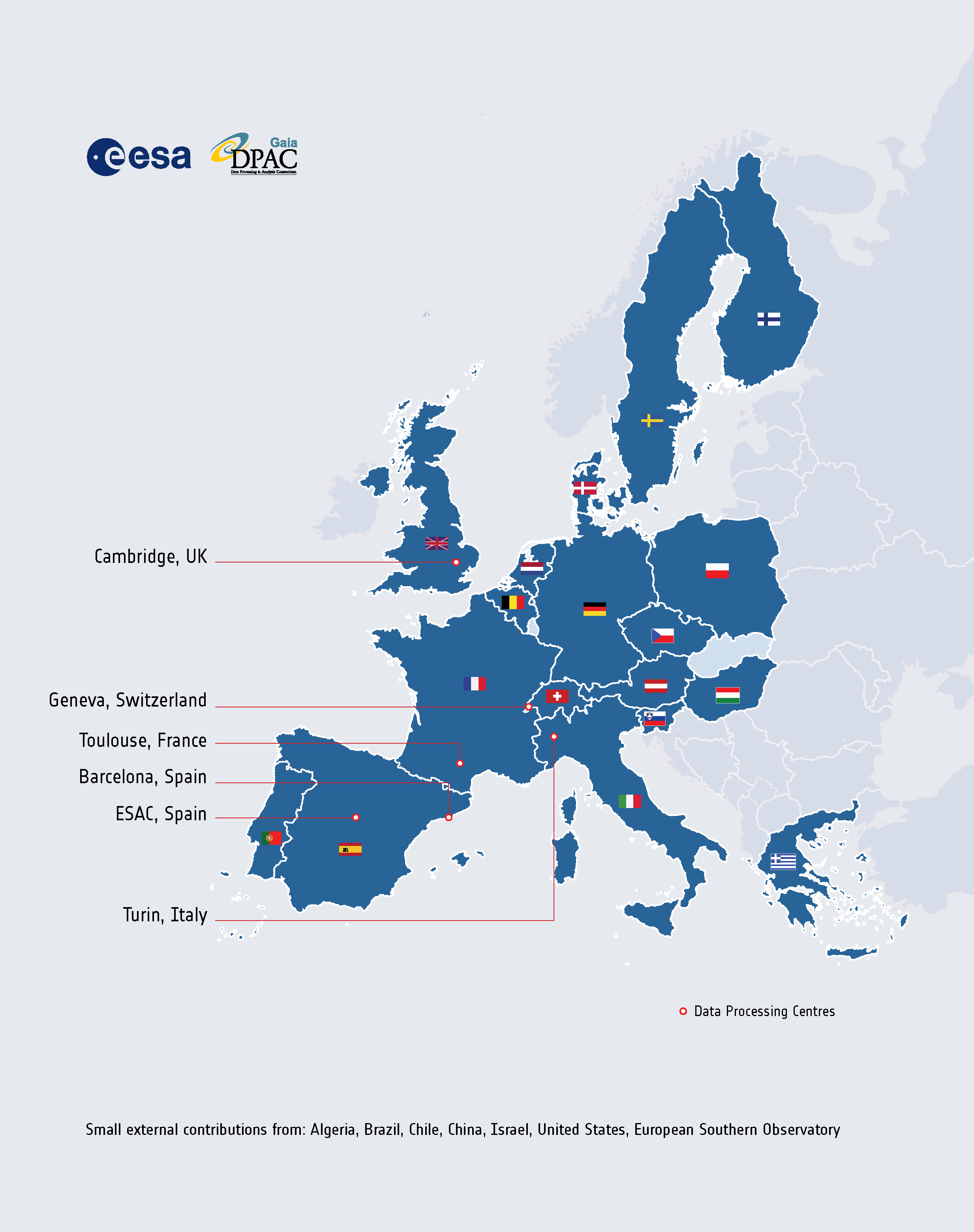 In the image released today you can see the geographic contributions to the Gaia Data Processing and Analysis Consortium. It shows the countries where the people in DPAC are working. Read further on Gaia DPAC and its contribution to Gaia Data Release 2 in our newest story available here.
18/04/2019 Summary of the 53rd ESLAB symposium
From 8-12 April 2019, the 53rd ESLAB symposium took place at ESTEC, The Netherlands. A summary of the results shown at the symposium can be found here.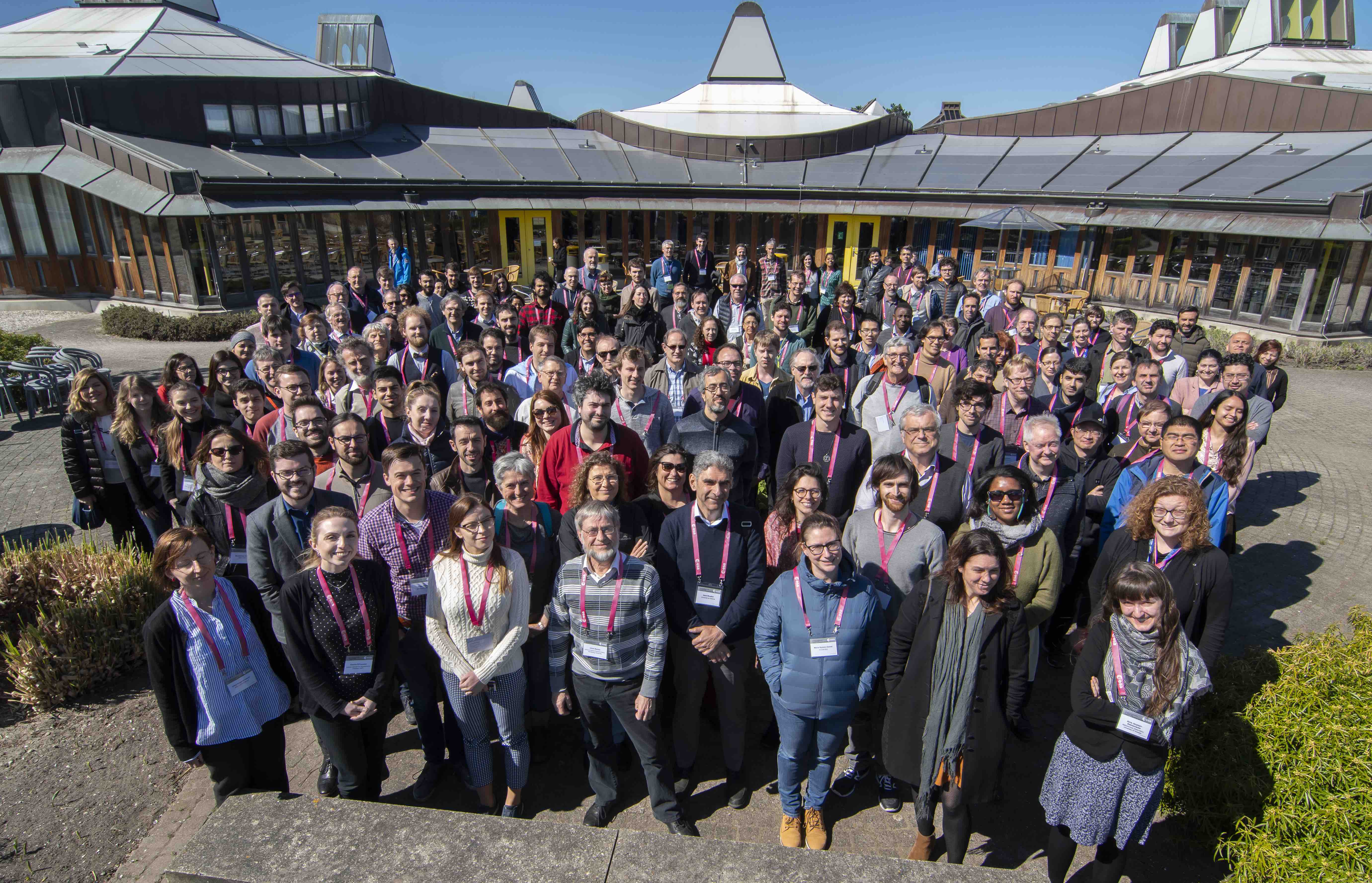 07/04/2019 Gaia newsletter
The 6th issue of the Gaia newsletter just came out. Interested in the contents? Read through the newsletter here. Information on how to subscribe or unsubscribe to the Gaia newsletter can be found here.
More news
Data Releases

Data Release 2

---

---

---

---

---