Image of the Week
Gaia broad band photometry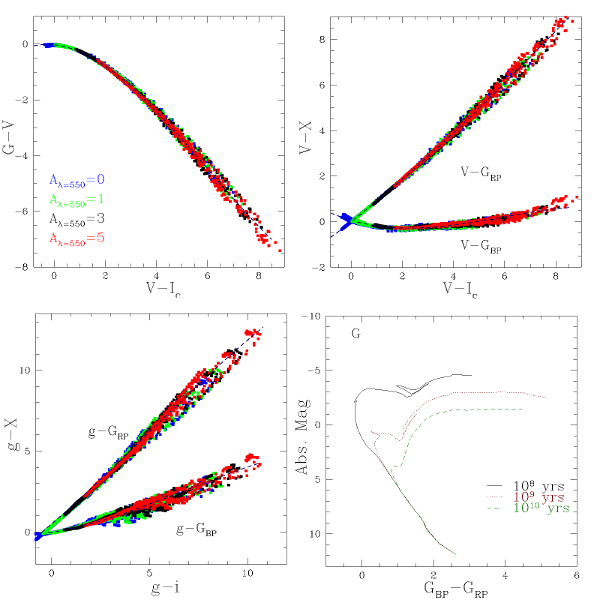 A recently accepted paper by A&A (Jordi et al., 2010) characterizes the Gaia passbands (G, GBP, GRP, and GRVS) based on the most up-to-date information from the industrial partners. Not all data are yet real measurements of flight hardware, but close enough for the scientific exploitation preparation.
Gaia magnitudes and colours have been computed for all spectral energy distributions in the BaSeL3.1 stellar library and for four reddening values. In addition, colours in the most commonly used photometric systems (Johnson-Cousins, Hipparcos-Tycho, and SDSS) have also been derived. All the computed colours are provided in an online table. Based on this table, colour-colour transformations have been calculated.
The transformations involving Gaia and Johnson-Cousins (V-Ic) and Sloan DSS (g-z) colours have the lowest residuals. A polynomial expression for the relation between the effective temperature and the colour GBP-GRP is derived for stars with Teff > 4500K. For stars with Teff < 4500K, dispersions exist in gravity and metallicity for each absorption value in (g-r) and (r-i). Transformations involving two Johnson or two Sloan DSS colours yield lower residuals than using only one colour. The paper also computes several ratios of total-to-selective absorption including absorption in the G passband (AG) and colour excess E(GBP-GRP) for the sample stars. A relationship involving AG/AV and the intrinsic (V-Ic) colour is provided. Bolometric corrections have been computed in Gaia's passbands, which allows the correspondence between absolute Gaia magnitudes and luminosity. In addition, the derived Gaia passbands have been used to compute tracks and isochrones using the Padova and BASTI models, and the passbands have been included in both web sites. Finally, the performances of the predicted Gaia magnitudes are estimated according to the magnitude and the celestial coordinates of the star.
All the ingredients and tools presented in the paper can be used to predict how the Gaia sky will look, in which conditions a known object will be observed, etc. Besides the G, GBP, GRP and GRVS photometry, low-resolution BP and RP spectra will be available. It is necessary to emphasize that these BP and RP spectra are the best suited elements to derive astrophysical parameters of the observed objects because they have been designed for exactly this goal. However, a lot of research can be done with only a colour-magnitude diagram, and the paper can be used for this. Furthermore, for very faint objects or in the early releases of the mission (when few observations are available per object), broad band photometry may be the only available product. The results in the paper can be used also to plan ground-based complementary observations and to build catalogues with auxiliary data for the Gaia data processing and validation.
A larger version of the pictures is also available:
left top image
right top image
left bottom image
right bottom image
[Published: 13/10/2010]