Image of the Week
Model Soyuz Fregat Video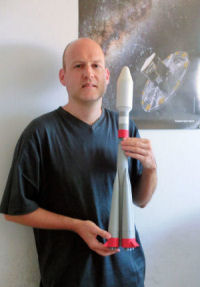 A passionate model rocketry hobbyist and DPAC-CU5 member, Holger Voss from the UB, has built two models of the Soyuz Fregat that will take Gaia into space. Using solid black powder as a propellant, he has lately launched his 1:100 and 1:72 scale models from a field just outside of Barcelona.
You can watch the video of the model launch on You Tube.
A new 1:50 model is already in the making. Just like the boosters of the Space Shuttle, it will use powdered aluminium with ammonium perchlorate as a propellant.
Image: courtesy of Holger Voss
[Published: 11/07/2013]