Image of the Week
Gaia detects Microlensing event1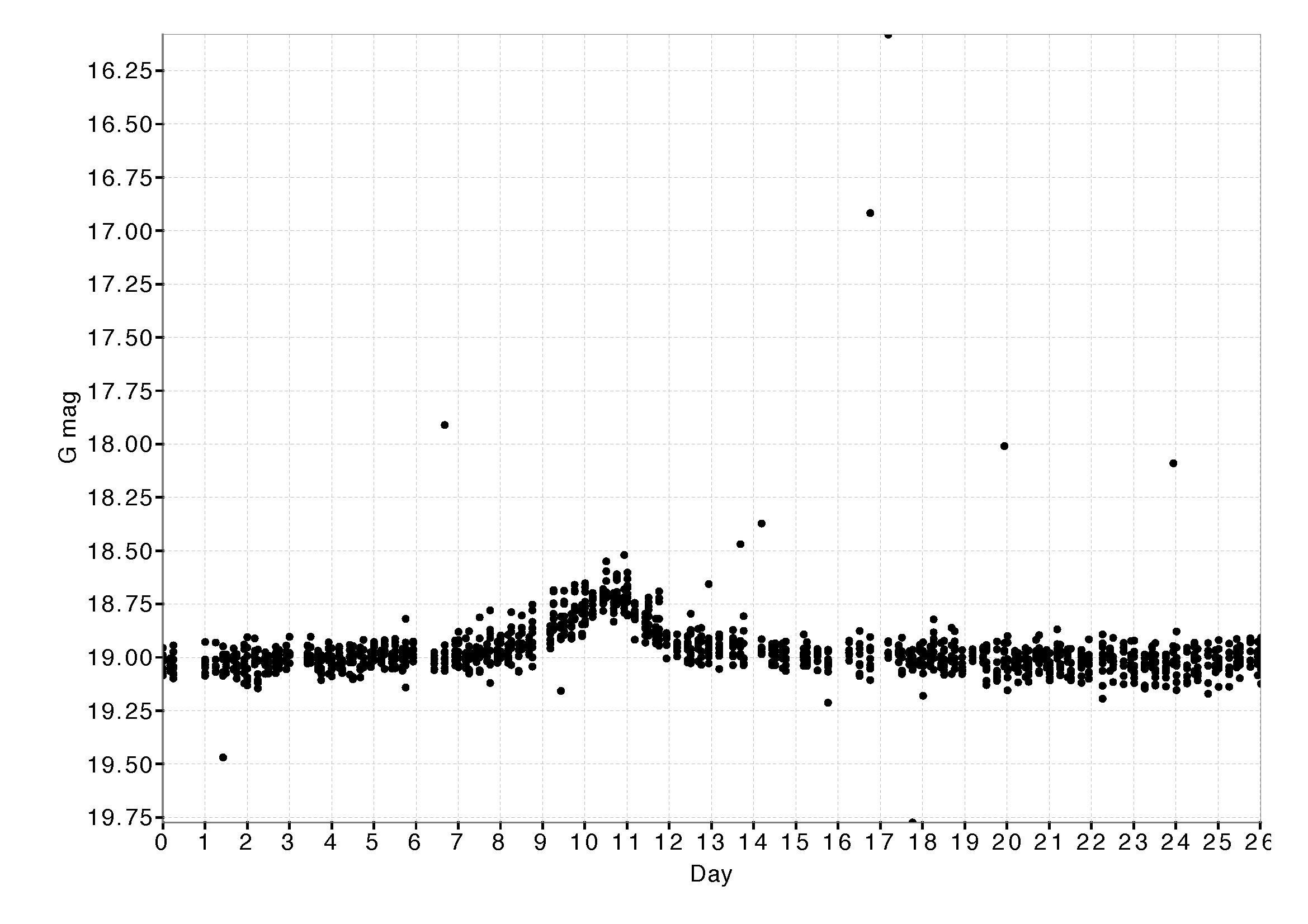 plot a): Microlensing event1 detected in EPSL mode
By Dafydd Wyn Evans and Marco Riello
Over the past few weeks CU5 has been busily processing the photometry of the Ecliptic Pole Scanning Law (EPSL) data as part of the 5th DPAC Operations Rehearsal. During EPSL mode, Gaia scans over the ecliptic poles very frequently, thus enabling us to get very good time coverage. It is good fortune that the South Ecliptic Pole (SEP) is also in the direction of the Large Magellanic Cloud.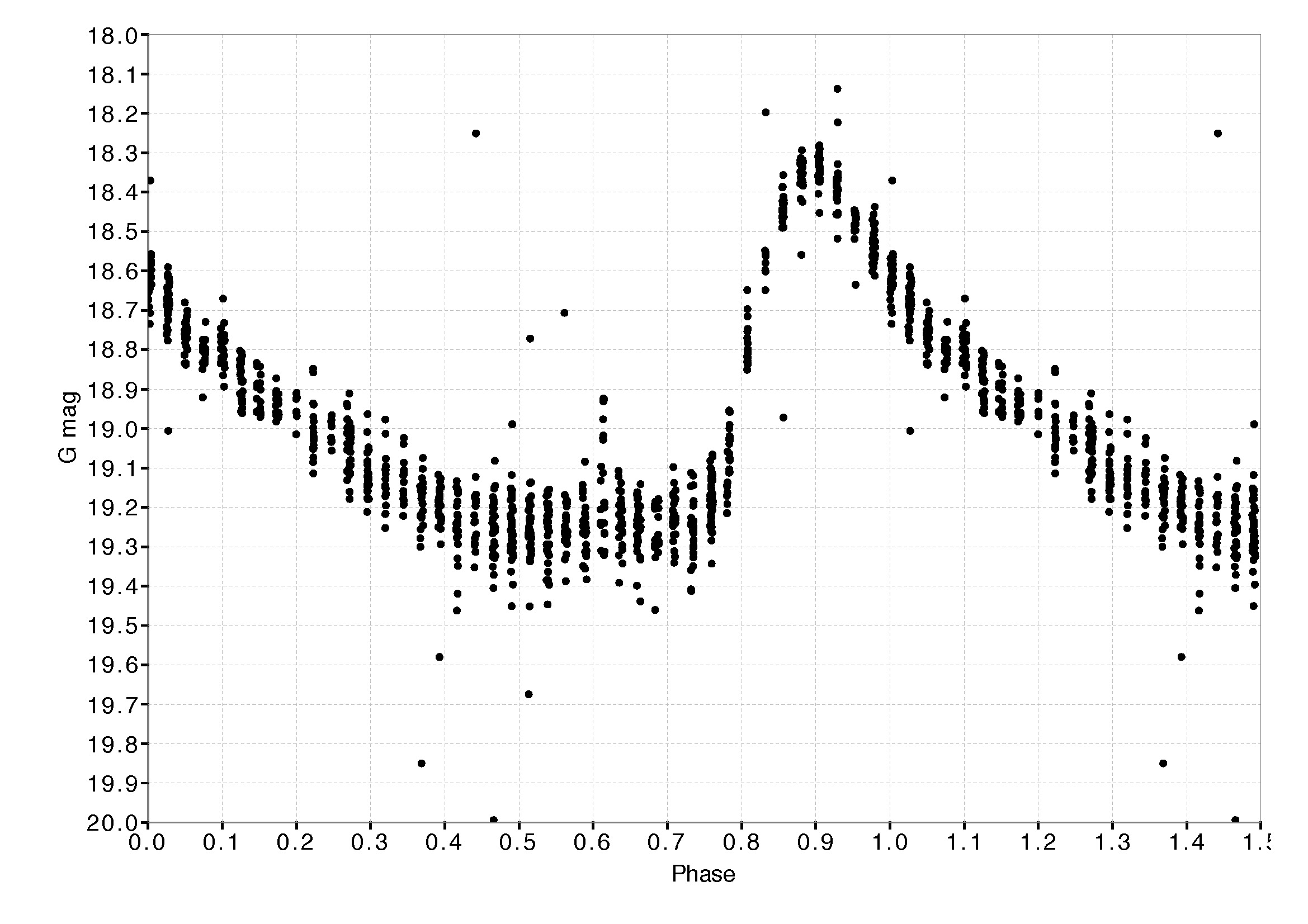 plot b): RR Lyrae variable star
As part of the CU5 validation process, known variables and constant sources were checked. Light curves were plotted of the sources with the largest number of observations. Plot b) shows an RR Lyrae and plot c) a constant source. Doing this was to see if the photometry had any variations with time, in order to check the photometric calibration quality at this early stage. As can be seen there are some outliers that need investigation.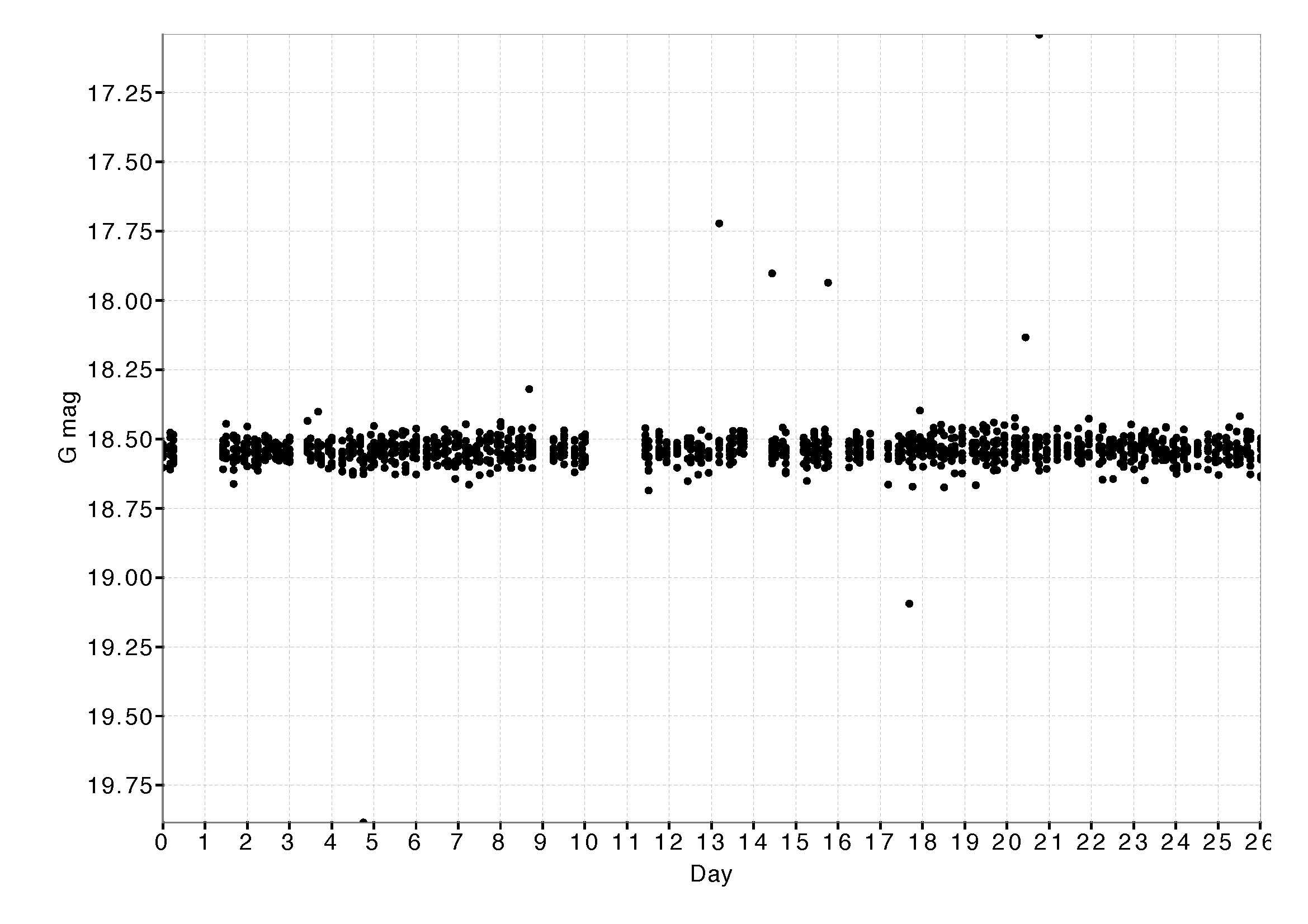 plot c: photometrically constant star
While Dafydd Wyn Evans was in the process of checking the photometric time series of the stars observed by Gaia, Simon Hodgkin pointed out that one of the plots looked like a good candidate for a microlensing event. This is shown in plot a) at the top of the page.

Microlensing events1 towards the LMC are very rare and it is extremely lucky that one has been spotted in one month of Gaia data covering about a square degree of the LMC (and not the densest part). The MACHO and OGLE projects only spotted 1.75 and 0.33 events per year respectively. From the shape of the light curve, the lensing object has a small mass and/or a large velocity. The BP-RP colour of the star was also checked and is constant, as expected for a microlensing event. Perhaps instead of being very lucky, Gaia has detected a type of object that has previously been missed by current ground-based surveys.

Ironically, Gaia has now gone over to the Nominal Scanning Law, which does not have such a high cadence at the ecliptic poles, so we will not get as clear a picture again of a microlensing event candidate. However, the plot shows that, even with a partial calibration, the CU5 photometry is looking in good shape.
credits: ESA/Gaia/DPAC/Dafydd Wyn Evans and Marco Riello
[Published: 12/12/2014]
1 It has subsequently been found that the increase in brightness that looked like a microlensing event was caused by a diffraction spike from a nearby bright star. Due to the nature of the scanning law, the spike passed over the source in question and caused the apparent increase in brightness. This provides a salient example of the caution that should be exercised when trying to analyse outlier events at this early stage in the mission.
[Published: 17/06/2016]