Image of the Week
Gaia's potential for the discovery of circumbinary planets
For bright stars, the astrometric precision of Gaia is sufficient to discover giant extrasolar planets by monitoring the stellar reflex motion. Because Gaia observes the entire sky and planets are abundant, thousands of exoplanets are expected to be discovered around single stars. Only recently, data of the Kepler satellite confirmed that exoplanets orbiting binary stars, so-called circumbinary planets, are also fairly common and that at least 10% of tight binary stars host one. A paper just published in MNRAS studies the potential of Gaia to characterise circumbinary planets.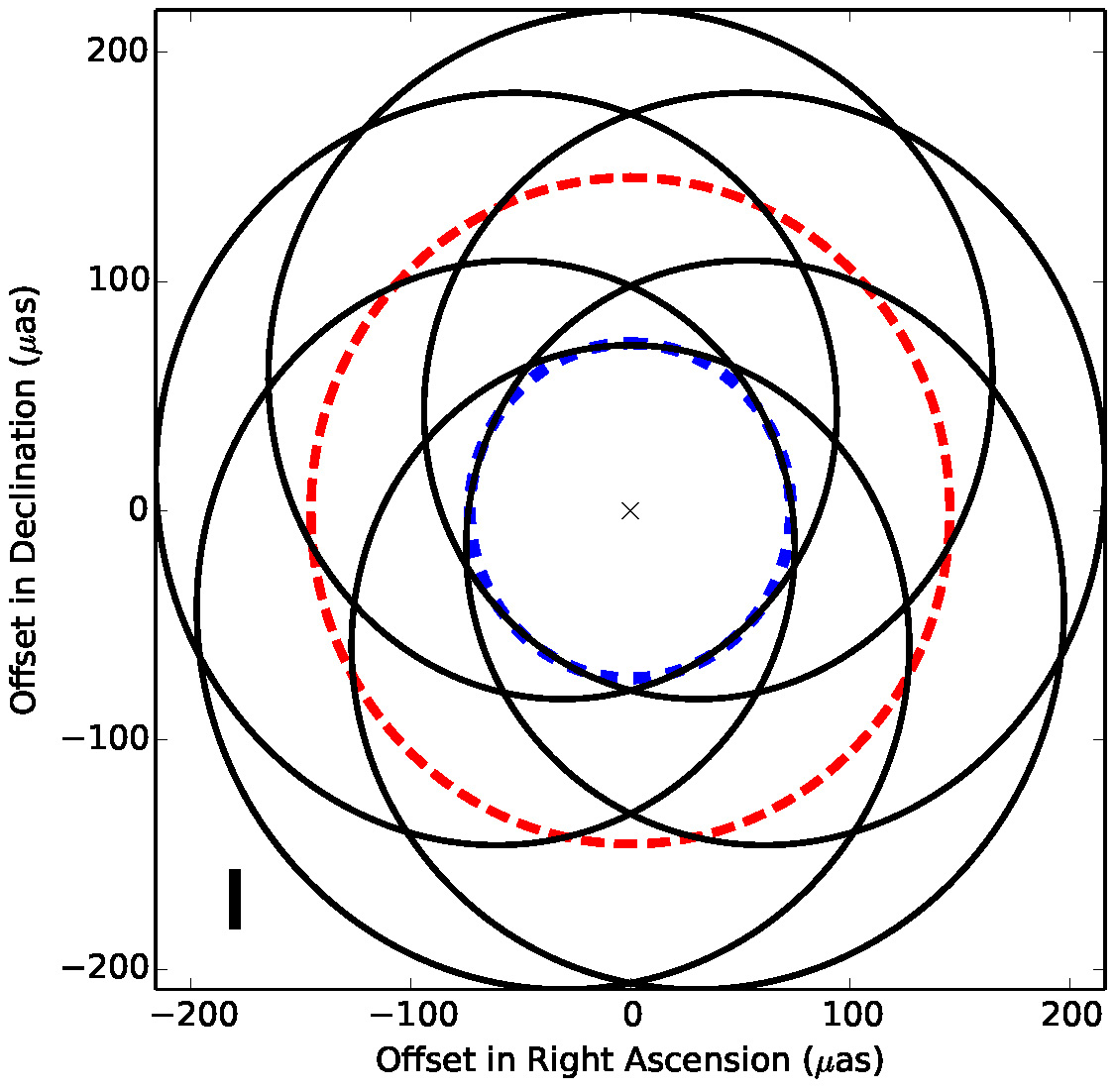 The figure above shows the astrometric signature in the plane of the sky of a circumbinary planet that Gaia could detect. In addition to proper and parallactic motion (not shown here), the photocentre of a binary composed of two very similar Sun-like stars located at a distance of 50 pc follows the red dashed curve with a period of 40 days. The planet has 8 times the mass of Jupiter and induces the orbital motion indicated by the blue dashed line. The rosette shape of the combined motion (solid curve) is caused by the period ratio of the planetary and binary orbits, which has to be larger than 4.5 for the system to be dynamically stable and was set to 6 in this simulated case (the planet's period is therefore 240 days). The vertical bar in the lower left-hand corner indicates the single-measurement uncertainty of Gaia of about 30 micro-arcseconds for bright stars. Because Gaia will accumulate on average 70 measurements for such systems, the circumbinary planet will therefore be detectable despite the complexity of the astrometric signal.

The new study concludes that Gaia will discover hundreds of giant circumbinary planets around binary stars located within 200 pc of the Sun, provided their mass distribution is similar to the one determined around single stars. But what will be learned from this survey, given that we already know that exoplanets are common in our Galaxy? One of the challenges of current research is to obtain a comprehensive census of exoplanets around nearby stars. Gaia astrometry is sensitive to planets that are difficult to study with other techniques, an advantage that is even more pronounced in the case of circumbinary planets. Gaia will therefore help to obtain a more complete picture of the exoplanet population, which may help to better understand the processes of planet formation. Finally, one rule persists in research: every time new instruments make it possible to explore an uncharted parameter space, surprises can be expected.
credits: Johannes Sahlmann
[Published: 04/02/2015]