Image of the Week
Detectability of stars close to Jupiter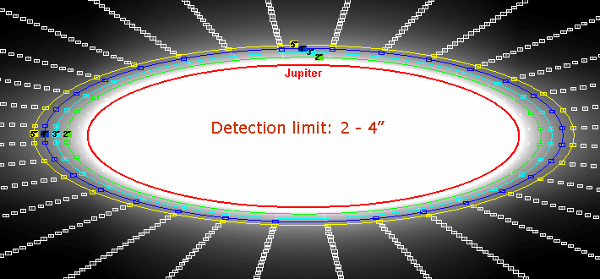 The detection of faint stars close to bright extended objects with Gaia is a challenging task. High background and stray light can be more intense than the star light and introduce much noise, which at some point prevents the detection. The Gaia SOC calibration team has simulated such scenario as a testbed to develop calibration tools and to provide input for science programs requiring this kind of observations (being GAREQ the prototypical case).
The drawing presents the detection limits for a star of magnitude G = 13.5 as it gets close to Jupiter in a wide range of relative orientations. The x-axis is the AL and the y-axis the AC directions. Jupiter has an elongated shape because the Gaia pixels are rectangular, with a size three times smaller in the AL direction.
The detection limits found for a G=13.5 star close to Jupiter are between 2" to 4".
It can be seen that the detectability is a function of the star angular position with respect to Jupiter. For angles measured with respect to the horizontal AL axis, the detection limits are:
2" for angles between ± 16 degrees.
3" for angles between ± 40 degrees.
4" for other angles.
The details of the simulations performed are the following: 32 branches of stars covering 360 degrees around Jupiter, 60 stars per branch, 1" distance between stars and 11.25 degrees between branches. The stars presented have magnitude G = 13.5 (sampling class 1) with spectral type G2V. Jupiter is simulated as a disk with a diameter of 38.6" (quadrature) with a cosine limb darkening law. The VPU has been simulated using the VPU V2.3 prototype with basic VTCO1 configuration.
Additional details can be found in the DPAC technical note AMF-002 and JMF-003 (access restricted to DPAC members).
This work has been made by Alcione Mora, Juanma Martin-Fleitas, Frederic Raison and Ralf Kohley, members of the Gaia SOC calibration team at ESAC.
[Published: 19/01/2011]