Image of the Week
Instrument Development Award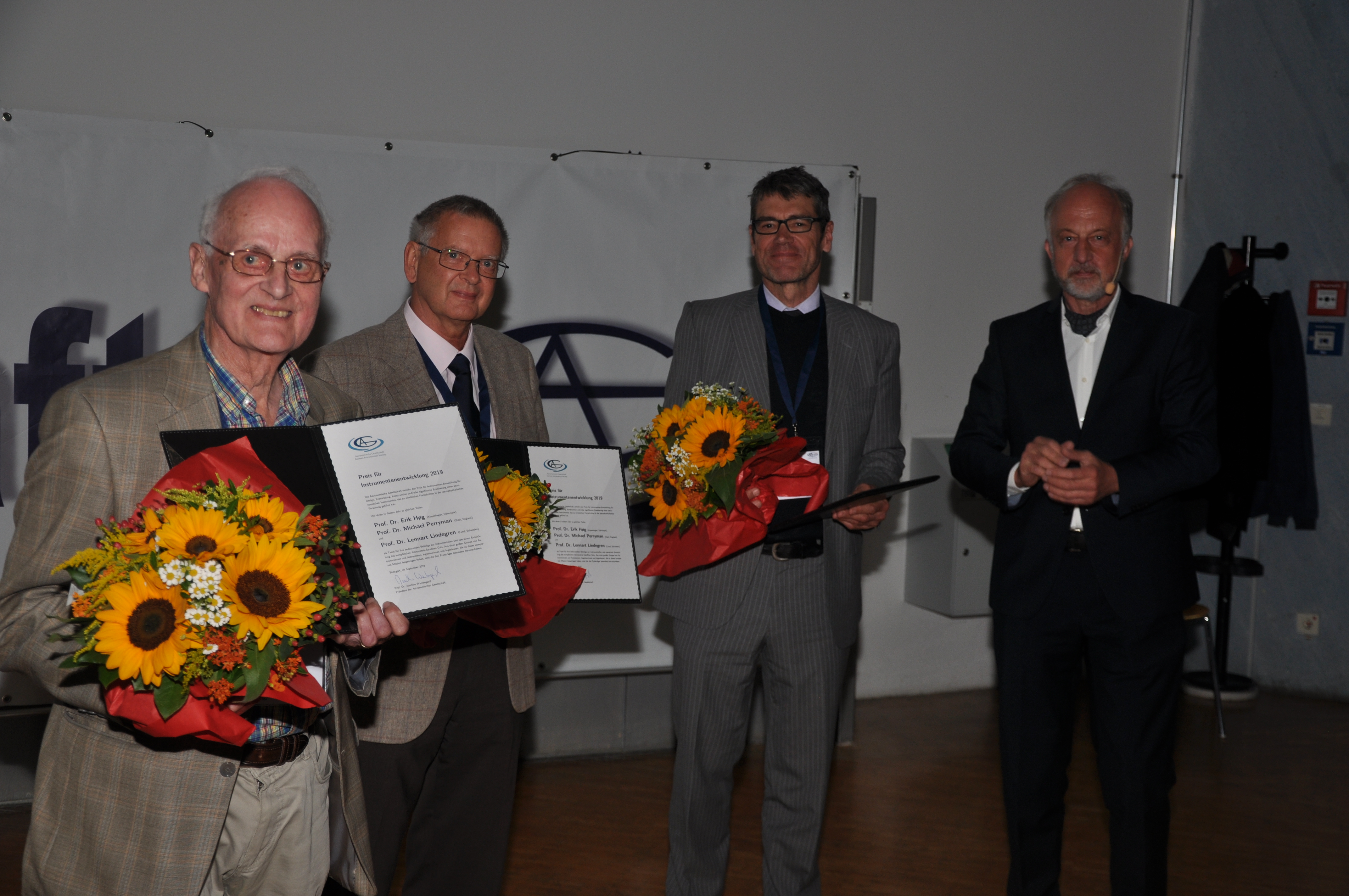 Figure 1: Nominees of the Instrument Development Award for Gaia: Erik Høg, Lennart Lindegren and Michael Perryman. On the right you see Professor Joachim Wambsganss from the University of Heidelberg and head of the Astronomische Gesellschaft. Image credit: Stefan Jordan
A prize has been awarded today, Tuesday 17 September 2019, at the annual meeting of the German Astronomical Society to Lennart Lindegren, Erik Høg, and Michael Perryman for their contribution to the instrumentation of the Gaia mission. The Instrument Development Award was established in 2016 by the German Astronomical Society and is awarded for the design, development, construction and significant extension of an astronomical instrument that lead to remarkable progress in astrophysical research.
In view of the Gaia second data release, which was published in April 2018 and which lead to more than a thousand scientific publications, the Gaia mission is already a very succesful space mission, knowing this is only a foretaste of the full scientific breakthrough expected from Gaia.
While Gaia was developed by a large and distributed group of astronomers and engineers, the three awardees were nominated for their role in Gaia's instrumental and operational development.
As one of the early proposers of the Gaia concept, and subsequently as member of the Gaia Science Team, Lennart Lindegren has contributed to many aspects of this mission, in particular the astrometric instrument design and accuracy analysis, and the development of concepts and algorithms for the data analysis. He also had a key involvement in the definition of the Gaia scanning law. Within the Gaia Data Processing and Analysis Consortium (DPAC), Lindegren leads the scientific implementation of the Astrometric Global Iterative Solution, a core element in the astrometric processing of the Gaia data.
Michael Perryman was Gaia's study scientist until mission selection in 2000, and subsequently project scientist until the project entered Phase B2 in February 2006. During this period, as chair of the Gaia Science Team, he was the interface between the ESA study/project team and the scientific community, with overall responsibility for the scientific aspects of the mission. He guided it through the early decision processes, the design phase, and assisted with the setting up of the data analysis organisation and concepts.
Erik Høg proposed in 1992 a scanning astrometric and photometric satellite called ROEMER, employing direct imaging on CCDs as now implemented in Gaia. Erik played a key role in the definition of the photometric system. He also served on the Gaia Science Team until 2007, where he led the design of the complex on-board detector sampling schemes.
Credits: S. Jordan, L. Lindegren, E. Høg, M. Perryman
[Published: 17/09/2019]