Image of the Week
space flyby with gaia-like data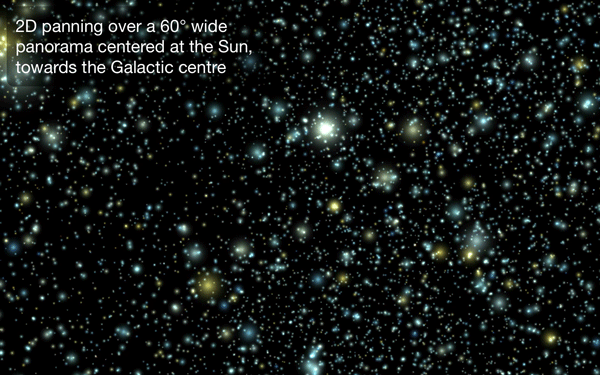 Credits:
SIM - University of Lisbon (www.sim.ul.pt)
CA3 - UNINOVA (http://www.ca3-uninova.org)
Download the mov file (198M) to see the complete movie.
Gaia will produce a stereoscopic catalogue of a billion stars and other bodies in our Galaxy and beyond. In addition to the huge task of processing the Gaia observations, we will face the challenge of how to visualise such a large multidimensional data set. This will be one of the tasks of the future Catalogue Access Coordination Unit (CU9).
In the context of the Gaia Archive Preparation Group (GAP), two teams in Lisbon, Portugal, have been studying visualisation requirements and adequate solutions for the Gaia archive. For this, a concept testing workbench has been developed using hardware acceleration features and interactivity facilities provided by game programming engines. This workbench has code name CSI-VEGA, which stands for Concept Study for an Interactive Environment of the Gaia Archive.
The first tests are focused on 3D navigation and simple selection using data from Gaia's predecessor: The ESA Hipparcos mission.
[Published: 04/01/2013]