Image of the Week
3D distribution in the Milky Way of the contents of the Gaia catalogue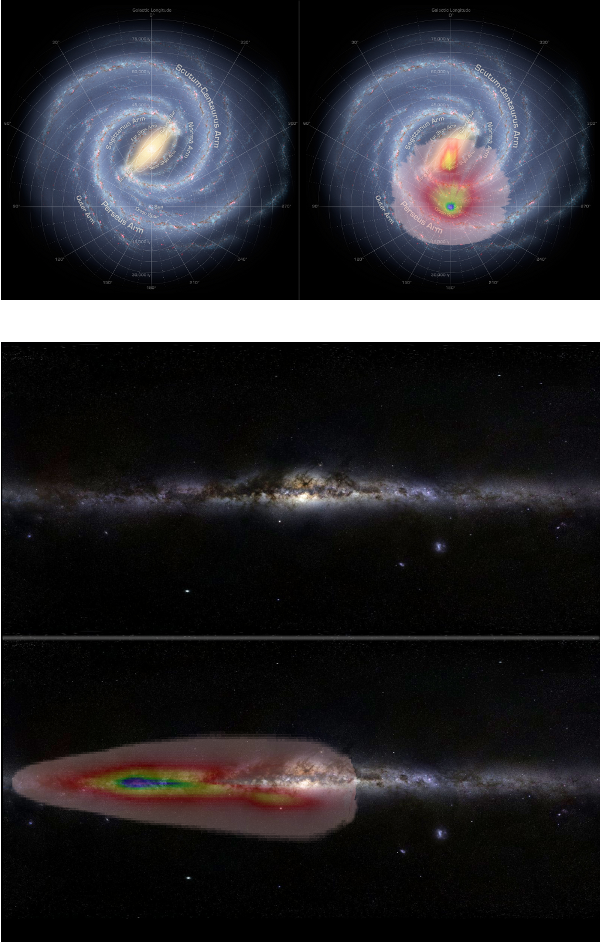 These images show the expected 3D distribution in the Milky Way of the contents of the Gaia catalogue.
They are an overlay of an artistic top view of our galaxy (NASA/JPL-Caltech/R. Hurt) and an actual picture of the Milky Way on the sky (Gigagalaxy zoom) with the results of a simulation of the contents of the Gaia catalogue (GUMS v8) produced by the DPAC-CU2 at the MareNostrum supercomputer.
The colours of the overlayed simulation show the expected density of the one-bilion stars in the catalogue in different regions of the Milky Way, ranging from purple-blue very high densities around the Sun to pink low densities farther from it. The "spikes" pointing away from the Sun are due to windows in the interstellar extinction, allowing deeper observations. Notice in particular the region in yellow and red, just below the galactic center. It corresponds to the high-density bulge visible through an extinction window around the galactic central region.
High resolution of the pictures:
Credits: X. Luri & the DPAC-CU2. Simulations based on an adaptation for Gaia of the Besançon galaxy model (A. Robin et al.)
[Published: 10/08/2011]