Image of the Week
asteroid detection by Gaia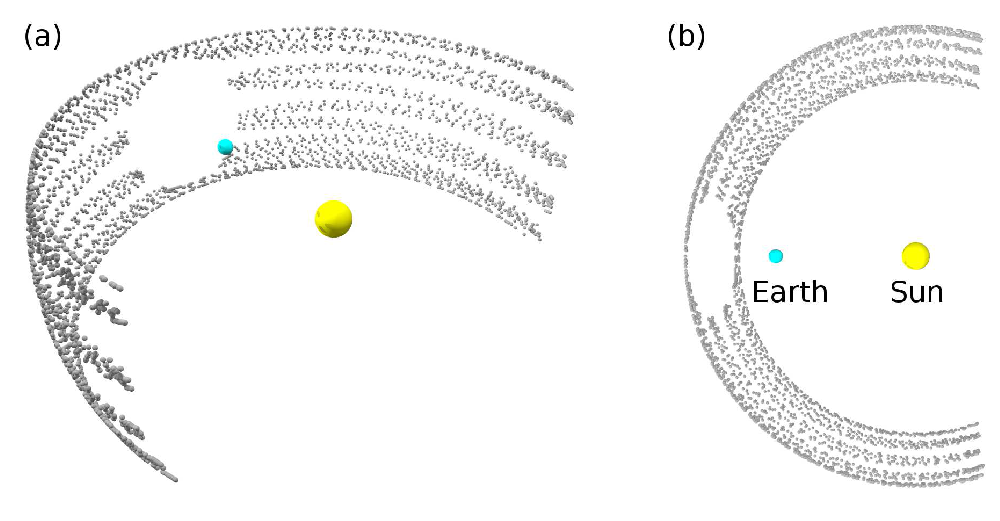 Besides observing the large population of Main Belt asteroids, Gaia will also help to characterize more exotic categories of objects. This is the case, for example, for the "Trojan" asteroids sharing the same orbit of the planets, but preceding/following them, scattered around the Lagrangian equilibrium points.

One of the smallest Trojan samples is the one of Mars, in which eight members have been identified. Luckily enough these small asteroids (the largest one, (5261) Eureka, should be a few km in size) are close enough to Earth's orbit to be sufficiently bright for Gaia. By running simulations of asteroid detection by Gaia, it is possible to predict the properties of all asteroid observations.

The plot represents the positions of Eureka (grey dots) when it is seen by Gaia relative to the position of the Earth (blue dot) and the Sun (yellow sphere). It clearly illustrates some general properties concerning the geometry of asteroid detection by Gaia.

The grey dots define a region in space which is delimited by four components: (1) the minimum angular distance from opposition reached by Gaia (45°), producing the small empty circle; (2) the minimum angular distance from the Sun (again 45°), delimiting the maximum extension; (3) the maximum excursion above and below the ecliptic plane (upper and lower edge); (4) the distance of Eureka from the Sun, always around the distance of Mars.
You can find the publication "Predictions for the Detection of Earth and Mars Trojan Asteroids by the Gaia satellite" here.
Image: courtesy of Paolo Tanga and Mick Todd
[Published: 06/01/2014]