Image of the Week
Lennart Lindegren, Doctor Honoris Causa of the Observatory of Paris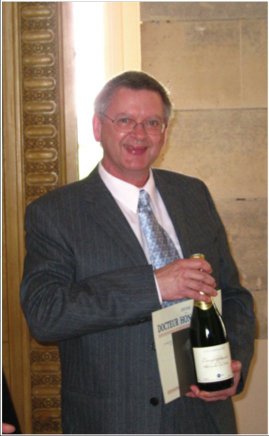 Prof. Lennart Lindegren, Professor at Lund University, received the title of Dr Honoris Causa of Observatoire de Paris on the 14th April 2011, in recognition of more than 35 years of outstanding contributions to astrometry and, more generally to astronomy.
After numerous and crucial contributions to different aspects of the Hipparcos mission (three step astrometric solution - then used by both Hipparcos consortia, concept and design of the eccentric Schmidt telescope, optimization of the scanning law, optimization of the design of the grid, detailed accuracy analysis, design of the relay optics, among many others), Prof. Lindegren was the Leader of the Northern Data Analysis Consortium for Hipparcos from 1990 to 1997, and greatly contributed to the analysis of Tycho data.
In 1993, he took the initiative, with the support of other colleagues, in particular Michael Perryman, to propose an ambitious successor to Hipparcos: Gaia. Most of his work now contributes to preparations of Gaia (innovative, rigorous and efficient method for the analysis of Gaia astrometric data, optimization of the basic angle and of the scanning law, calibration of the chromaticity and consequences on the profile of the photometric filters, optimization of the photometric pass-bands, analysis of the expected precision on the astrometric and photometric parameters, analysis of the sources of systematic errors on trigonometric parallaxes and of the importance of regular measurements of the basic angle, modelling and calibration of radiation effects on CCDs, reconstruction of the satellite attitude). He has been, since 1997, a member of the Gaia Science Advisory Group and now of the Gaia Science Team. He was, from 2006 to 2010, coordinator of the Marie Curie RTN European Leadership in Space Astrometry.
Lennart Lindegren is also strongly interested in the fundamental methodological aspects of observational astrophysics from astronomical application of Lippmann photography to the determination of stellar ages and the fundamental definition of radial velocity.
The speech by Catherine Turon is available in English and French.
[Published: 18/04/2011]