Image of the Week
Diffuse Interstellar Bands in three hot stars as seen by Gaia's
Radial Velocity Spectrometer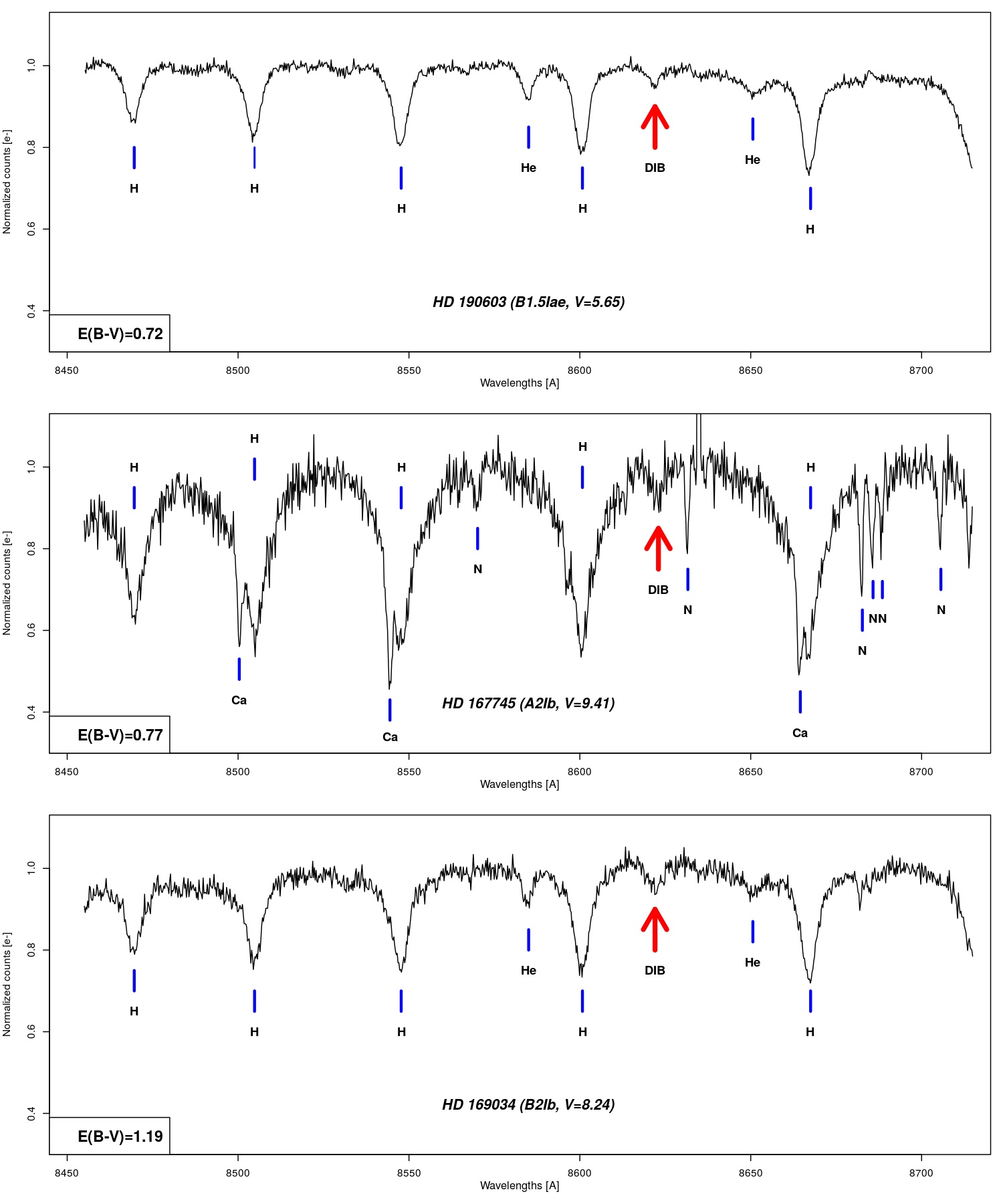 The figure above shows the spectra of three hot stars (between ~20000K and 9000K) observed by Gaia's on-board spectrograph: the Radial Velocity Spectrometer (RVS). To reach us, the light of those stars crossed the interstellar medium, composed of gas and dust. It absorbed a fraction of the stellar light, producing absorption lines. The ones visible in RVS spectra (marked by the red arrows) belong to the family of the Diffuse Interstellar Bands (DIBs). The strength of the DIB is a function of the amount of interstellar medium between the star and Gaia.
In the figure, the stars have been sorted by increasing extinction and one can see that the DIB becomes stronger with extinction. Some other spectral lines such as the ones for Calcium, Hydrogen, Helium and Nitrogen have also been marked, but these lines are produced in the atmosphere of the star and not by the interstellar material.
Combining the DIB intensities with the Gaia parallaxes will allow the construction of an unprecedented 3D map of the interstellar medium. The strength of the DIB depends on the accumulation of interstellar matter along the line of sight toward the star. The stellar distance gives an upper limit to the distance of the matter contributing to the DIB absorption. By combining numerous measurements of stars distributed at different distances along a same line of sight, one can inverse the problem and derive the distribution of the matter along the line of sight (ISM tomography). Combined with the spectrophotometric estimation of the extinction, Gaia will not only produce a fully unique 3D mapping of the Galactic interstellar medium but may also bring new constraints on the potential carriers of the DIBs.
credits: ESA/Gaia/DPAC/CU6/Observatoire de Paris-Meudon/Olivier Marchal, Carine Babusiaux & David Katz
[Published: 26/01/2015]